This recipe was submitted by my mother-in-law Melidee. Easy, quick and for my vegetarian friends, leave out the pancetta and use vegetable broth and it will still be great and vegetarian! Though it practically is vegetarian, to quote my husband "there is meat in there?"
This was a recipe my kids liked too!
Penne With White Beans and Pa
ncetta-
From America's Test Kitchen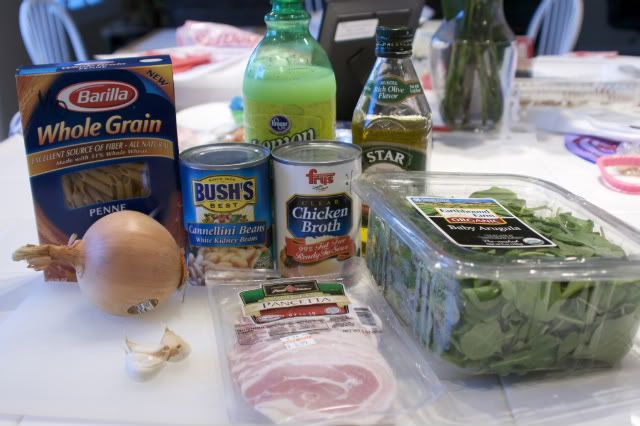 1 TBSP olive oil
3 oz pancetta, chopped fine
1 onion, minced
3 garlic cloves, minced
1 15 oz can cannellini beans, rinsed
3/4 cup low sodium chicken broth
salt
1 lb. penne
2 1/2 oz. arugula (4 cups)
1 TBSP fresh lemon juice
Grated Parmesan cheese for serving
1. Bring 4 quarts water to a boil in a large pot for the penne.
2. Meanwhile, cook the oil and pancetta in a 12-inch skillet over medium-high heat until the pancetta is lightly browned and crisp, about 5 minutes.
3. Reduce the heat to medium, add the onion, and cook until softened, about 5 minutes. Stir in the garlic and cook until fragrant, about 15 seconds. Stir in the beans, broth and 1/2 tsp salt. Bring to a simmer and cook until the beans are heated through, about 3 minutes. Using the back of a wooden spoon, mash some of the beans to thicken the sauce.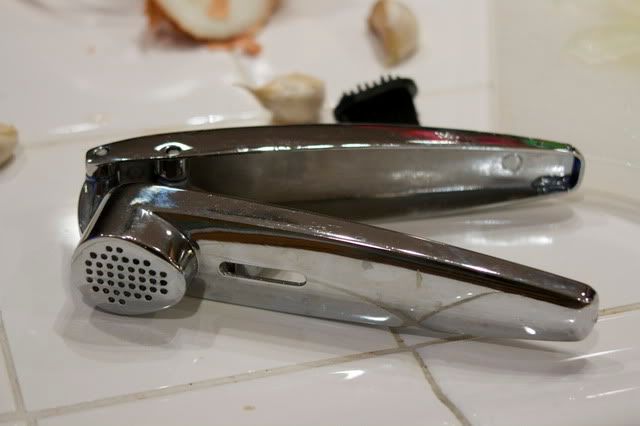 Invest in a good garlic press-makes life so much easier

4. When the water is boiling, stir in 1 TBSP salt and the penne. Cook, stirring often, until the penne is almost tender but still a little firm to the bite.
5. Reserve 1/2 cup of the past cooking water, drain the penne, and return it to the pot. Stir in the bean mixture, arugula, and lemon juice and toss to coat. Add the reserved pasta cooking water as needed to loosen the sauce before serving. Serve, passing the Parmesan separately.
If pancetta is not available, substitute bacon. While penne is the pasta of choice, any short, stubby pasta that catches the beans will work. Make sure to remove any thick stems from the arugula. The residual heat of the pasta and the sauce will wilt tender arugula leaves, but any thick stems will remain too crunchy.
To thicken the sauce and give it more substance, mash some of the white beans during the cooking process. The starchy insides of the beans enrich the sauce and help it adhere to the penne. (America's Test Kitchen)