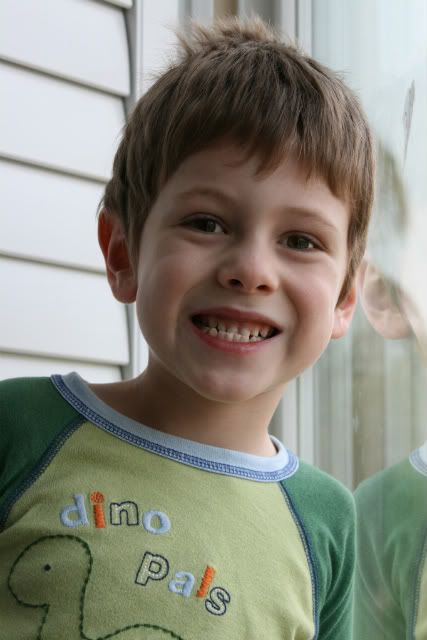 I love this boy. He has a heart of gold. He is the child who will come and and just randomly say, "I love you". He is the boy that randomly whispered to Eric, 'let's go buy mommy some flowers'. He is also the child that went out of his way to say "thank you for inviting us over."
But these emotions and this tenderness also comes with the most stubborn and strong willed child I have ever met. He knows what he wants and if he does not want to do it, he will say no, he will be defiant and he will lose control. It doesn't matter who it is either, he has no fear of saying no to Eric or I or any adult for that matter. I never would have done that at his age, I would have been way too scared.. now as a teenager, but at five!
We have taught him about respect, about obeying, about parents being in charge and I have even found myself saying, "do not say no to me!" But as I have tried to figure out how to teach Lucas about respect and obeying, the thing I will never say to him, is you do not say no to an adult.
Maybe working as a foster care worker and seeing adults who were supposed to be the ones caring for and loving the kids but were causing the harm made me overly sensitive to this. Seeing adults who again and again, abused, hurt and neglected their kids.. adults who needed to be told no.
So I find myself stuck and wondering... wondering how do I teach him to respect and obey but keep him safe? We talk about not always being able to do things on 'Lucas Time' and teach him to work and that life isn't always fair...but yet he we still deal with this battle.
It has led me to think, is this fear part of the reason that has led to a general lack of respect for grownups in society. You rarely hear kids say yes ma'am and yes sir anymore (well maybe still in the south)...but maybe we need more of this. We need kids who respect and listen, but we also need adults who will respect and be kind back.
So, I continue my struggle back and forth looking for that perfect balance. The balance of safety, obedience, and just not wanting to crush their precious independent spirits. How about you? Do you struggle with this balance?