I started to get some ideas ready for our
Time for Tot's
day, but then I realized next week is St. Patrick's day so we should do something for that. So we shifted gears and started celebrating the luck of the Irish.
I began by talking about why St. Patrick's day started; Lucas already knew about the wearing green to not get pinched thing, but I figured they should know some of the real history. We then started talking about some of the things that are associated with St. Patrick's day, clovers, rainbows, leprechauns; the kids colored pictures.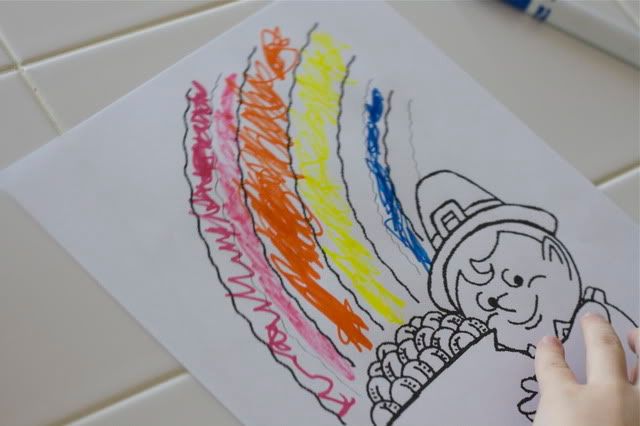 Then they did a shamrock dot-to-dot. It used the small letters of the alphabet so was a bit tricky for each of them but they both got it done.
I had seen this rainbow-hand painting activity and thought it looked so cute. I wasn't sure how Lucas would like it, as it took him a good year to be convinced to put his hand print on the playroom wall at Mimi's house. But he agreed to do it.
Maybe their hands weren't curved enough and they definitely didn't stick the next color close enough... and well after three colors they were done, but hey it was worth a try.
The next activity was definitely their favorite. I printed out some shamrocks and then wrote a spot in our house on each one and then they had to follow the clues to find their "pot of gold"at the end of the rainbow-in our case candy in a Halloween basket. They had to sound out and read the words to know where to go next. I was amazed at how many letter sounds Alex knows. And Lucas stepped in and helped too of course.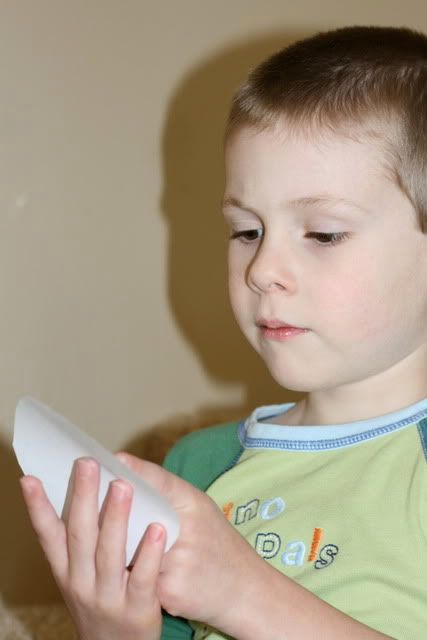 We ended the day by learning and saying a cute number play/poem about clovers, which can be found
here
.
It is hard to get the right amount of fingers up.

Hope you have a great St. Patrick's day next week. More Time For Tot's days can be found here.

**************************