I have heard horror stories of awful comments bloggers sometimes get. Somehow (knock on wood, cross my fingers, do a funny dance) I have been pretty free from weird/rude/disgusting comments.
But well, after my "
30 Things I am Going to Do This Summer
" post, I got one comment that started off well enough but then... well the rest just needs a Thank you Very Much letter.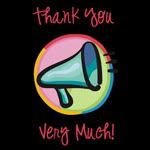 Here is part of the comment for your enjoyment:
"Just wondering why getting fit is not in your list.. you have to! After my wife got birth a bought him some health products to keep him shape and healthy."
Dear Atan-
Thank you so much for commenting on my blog, I love comments, especially ones
that make me laugh so hard I tinkle a bit
so considerate as yours. First off, your wife is probably a
her
... just a guess. But hey maybe not, and who am I to judge.
And you are so right, after having my guts cut open to give birth to a premature baby getting fit again is on the top of my list. Who cares that the Dr's said not to lift anything heavier than my baby for six weeks, I want to be healthy and fit, especially for my husband as your wife did for you.
And how considerate of you to buy health products for your wife. I hope she used those health products
to smack you upside the head
. And yes I did notice in your comment that "health products" was linked up to something, but sorry
inconsiderate sucker
your little ploy didn't work on me. Can't be too safe on this world-wide-web thing you know. And just some friendly advice, if you are trying to sell some legitimate health care products, you might want to think more carefully
or at all in your case
about who your target audience is and how you approach them.
Best of luck to you. Hope you and your skinny
man
wife are happy and healthy.
Sincerely,
The lady who just had a baby
Those letters are always so fun to do! Check out other great
Thank You Very Much Letters
at
The Daily Dribbles
.
Also linking up with
Shortmama's
Letters to Someone