School has been in session for a week and a half... but today for the first time it feels and sounds very quiet. Too quiet, even with Ryder snoring a few feet away. Maybe it is because I am really good at just living in the moment or maybe it was because Lucas was pretty stuffy so I debated if I should send him to school or not.... maybe reality is finally sinking in, so well I might just cry a little today.
So while I am being all nostalgic and realizing my babies are growing up and I can't always protect them every second, I figured I would get more nostalgic by linking up with
Oswald Cutie's
Monday Mugs for an easy Monday post.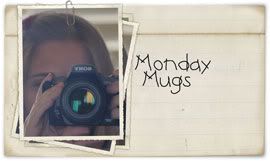 This week's theme is
Oh the Things they Get Into