Did you miss me yesterday? My parents are coming this week so before they get here I am trying to get Christmas shopping done, the house clean, packages shipped and 3 photo sessions edited. Phew!
So yes, my blog was neglected yesterday.. which means I forgot to give you a heads up about the Status Quote!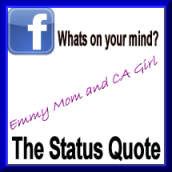 For those who may not know, the Status Quote is a monthly meme (second Tuesday) that
CA Girl
and I do. It is your chance to copy those funny/weird/bizarre or just interesting Facebook (or twitter) status updates that you see. You don't even have to tell who said it! So you can totally put something embarrassing or weird that your friend said and no one will ever know.
So, copy those status, post them and then come back and link up. Talk about an easy post!
Here are some of my favorite status that I saw this past month. My commentary is in blue.


"Pretty sure I just heard myself say, "Excuse me, do we eat paper like goats?!" Ah, parenting.

"As I was feeding Ryder his bottle tonight, and he fell asleep, I thought "Man, this kid has got it made..... eating and sleeping at the same time!"
"-
This was Eric who said this.. and he is right!
"-I confess this was me.. and I still haven't bought any more dryer sheets! Doh!

See! Isn't that fun and easy? Now just grab the button, write your post and link up! And also, don't forget to be getting your second recap for the review Extravaganza ready for Friday! If you don't know what I am talking about you can read more about it here.