Yep, it's that time again!
You know what I would like more than anything?
A whole day completely to myself.
A day to just get caught up on the ten million things on my list
a day to not have to deal with sick or fighting kids
but the sad thing
if I did really have a day like this
I would probably be bored after a few hours and just sit there watching TV
rather than work on the millions of things on my list.
Why is that? Why do we do that?
or is that just me?
I like to be involved, I like knowing what is going on
When I was younger if my parents were having a party, I wouldn't be off playing with the other kids
I would be the kid quietly sitting in the corner with all of the adults eaves dropping on everything they were saying
didn't want to miss out.
And while I have gotten better about this as I have become more secure as a person
I still sometimes have the tendency to want to do it all
as hey I know I can do a good job
so I say yes.. a lot.
And while most of the time it works out
it often comes to bite me in the butt and lead to me being super busy and crazy at times
but then in the end when I work well under pressure and it all comes together and people thank for me for a job well done-well it just sets me up to say yes all over again
maybe it's a sickness
or is it a good thing?
maybe both.
Maybe I just have adult ADD and am all over the place...
might be why I have so many projects I have started and never finished.
One project I have followed through with is taking a picture of Ryder every month
this month his "birthday" fell on Valentines day-do you wanna see?
Of course you do
that will be a good way to end this rambling.. with something adorable to look at!
The traditional monthly picture

In honor of being 9 months on the 14th

Look Mom, I am a heart breaker already!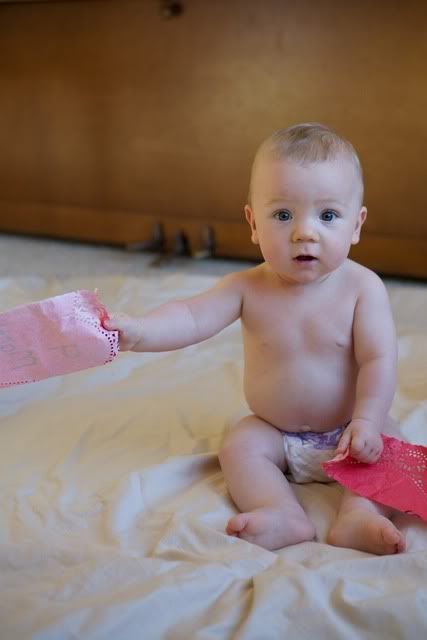 Hope you have a wonderful weekend! Go confess with
Glamazon
and
Mamarazzi
, it's good for the soul!