Saturday Eric and I were able to get out for several hours when we went on a dinner boat cruise for his work party. The boat slowly traveled around Newport harbor while we ate dinner, visited and played a few games, including the Newlywed Game.
Eric and I were one of the couples chosen to play. We sat back to back paper and marker in hand ready to to win this thing. And we did! We remembered the location of our first kiss (the back seat of a friends car), I knew his childhood nickname, and pretty much every other question they asked.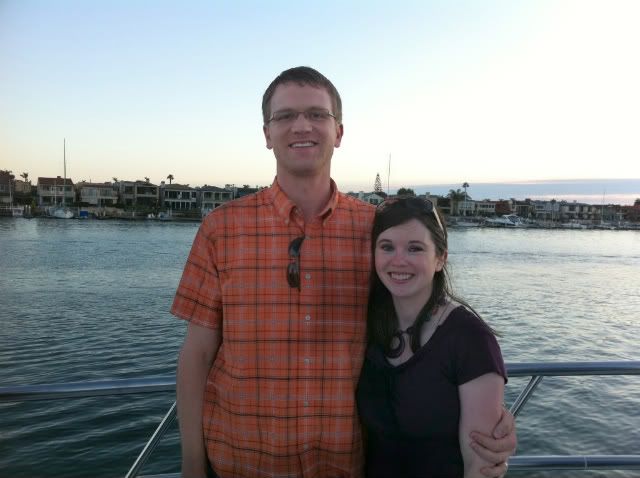 Enjoying the sunset from the boat


And then they asked a doosey- what was your very first fight and your last fight. I hesitated for a moment and then quickly wrote down my answer-
we don't fight
. And Eric's answer- well it matched mine.
"Yea, right!" people said- "How long have you been married?"
"Ten years next week." I replied.
"And you have kids?"
No one really believed it, but what mattered at the time was that we had both wrote the same thing and won the game.
Now we hadn't conspired, we weren't cheating, in fact there was a lot of truth to our statement. Now before you all go hating-we have had hard times in our marriage- times that might have ended other couples' relationships. But even in those years, I never once yelled at Eric and he never yelled at me. Later when people were asking us about it- I said it is because Eric is so easy going and good to me.
Sunday evening Eric commented that he was almost out of underwear, you know it is time to do laundry when the underwear runs out.
"Okay, I promise I will wash some tomorrow" I said
"Thanks"
Monday night rolls around- we were up late watching the earlier broadcast of latest Apple products announcement. We head up to bed and begin brushing our teeth, Eric turns on the shower (he leaves for work at 5:00 AM so showers the night before)
"Oh no" I gasp, then remembering the underwear- the underwear I had started in the wash, but never put in the dryer. "The underwear is in the washer still-I forgot to put it in the dryer."
I felt bad- I had promised. Eric works hard so that I can be home with the kids so those little things like the laundry are a given for me to be able to do.
And here is how Eric responded.
"Well you did just promise to wash them, you didn't say anything about drying them."
Where this could have turned into him being upset about me not doing what I said, about not doing more around the house, instead he just let it go. He didn't make a mountain out of a molehill to be totally cliche.
And this is why we can both say that yes, after almost ten years of marriage we don't fight.
What little things do you do to strengthen your relationships in life?