What makes for a great date? As I was trying to think of my all time favorite date one single date didn't really pop into my mind.
Though, I did remember my first date with Eric. It was a group date- we went up the canyon and roasted marshmallows and just laughed and had a great time.. oh and we may have kissed on that date.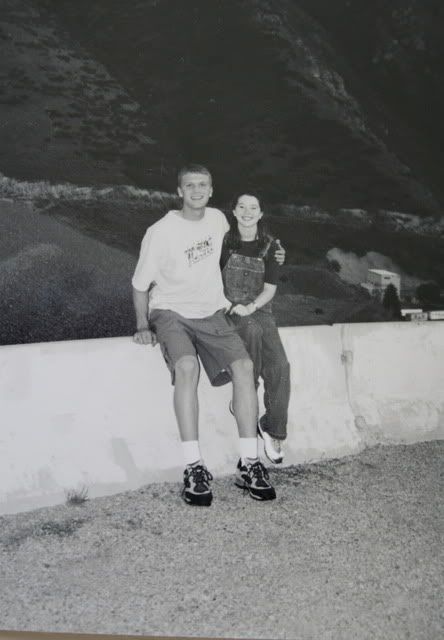 A picture from our first date

Or the time that we played lazer tag with a bunch of our friends and then went to a local dance even though I thought I was ready for bed. Eric had to keep me up a little longer that night though- as that was the night he proposed.
Or I thought about the time that Eric and I went mini-golfing and then out to dinner. Or the time when we went to BYU's bowl game in Vegas and froze our butts off in the constant 40 mph winds. But BYU won and it was a ton of fun- and this is the only time Eric and I have gotten away overnight just the two of us since having kids. Wow-that needs to be remedied.
I think the one common factor in all of these dates I thought about-besides the obvious factor- Eric-- is that we did something different than just dinner and a movie. Even if it was simple, like mini-golf, it was just not an every day thing we do and so made it that much more special.
And why I am writing this post today? Well because I am being featured and hosting a "lunch" on a great new blog called
Blossoming Bloggers
.
This is a site with the intent to help new bloggers. They feature tips and advice and talk about how to do things on lunch- and every Wednesday someone hosts a "lunch"-- they post a recipe and write a prompt for people to respond to. My question-
what is the best date you have ever been on?
So what is your best date? Write your response and head on over to
Blossoming Blogger
to link up- and make sure you go see what recipe I shared.