I love blogging- I love writing and telling my story, having a record of my life. And sometimes there are great perks. Last year I was able to get free
Christmas cards
from Shutterfly, here is the card I made last year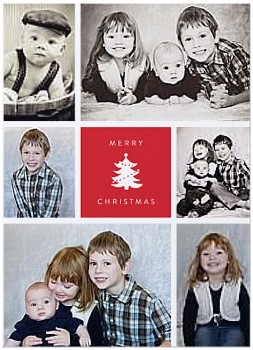 I loved the cards I got last year, they are great quality- I was very happy with the colors that came out- as not all printing services are created equal. When I take a lot of time to post edit my pictures only to have the printer mess the colors all up- well I don't like it. So I was so so happy with the colors of the cards that Shutterfly made for me.
So when I saw a deal for bloggers again offered by Shutterfly I was more than happy to accept that offer.
Have you been to their site? There have hundreds of
Photo Christmas Card
options. Or if you are having a big party- they even have
Christmas invitations
you can make. Plus, if you need a great idea for Grandma or someone that is harder to buy for they have so many great
photo gift
ideas.
To break it down simply, they have tons of great templates and formats that are easy to use and this professional photographer who pays extra to use my own printing service, was thrilled with the quality of the cards and the color that was made.
Now I just have to decide what pictures I want to use and which of the hundreds of
Photo Christmas Cards
I want to use. Maybe I will use just one picture this year on a card like this
Bloggers- you can register
here
for your chance to receive 25 free Shutterfly Christmas Cards.