**Winner for SoCal Power of Mom's Premium Retreat has been drawn!!
The winner is Megan
Congrats Megan! Please email me at emmy (at) emmymom2 (dot) com So I can get your info to the Power of Moms.
Joining up my friend
Grumpy Grateful Mom
for her new weekly meme
This week's good news- it could be the lack of homework battles- truly a small miracle. Or it could be the fact that after almost two months of sickness the whole family is healthy!
But nope, this week my Good News is shopping-
stick with me here
.
How much would you guess I paid for all of this?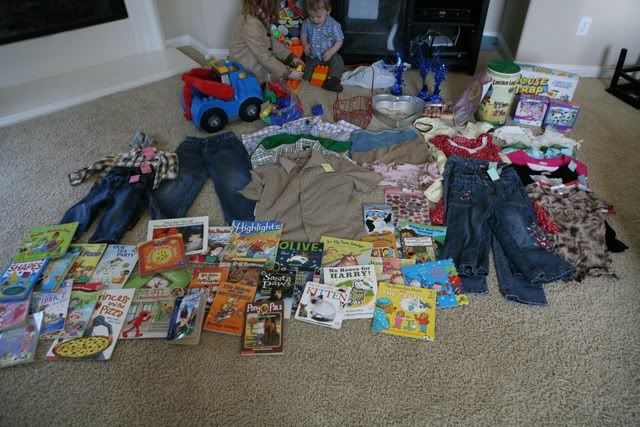 Try $100! We have some amazing thrift stores about 20 minutes from my house and I love love going out there and finding good finds- something exciting and successful about it.
And to break it down a little more in this stash is
7 shirts for Alex
2 dresses
1 skirt
3 pair jeans still for Alex
5 shirts for Lucas
1 pair jeans
1 shirt for Ryder
2 pair jeans
35 kids books (Fancy Nancy, Junie B. Jones, Bernstein Bears, etc.
1 giant mega blocks truck
Package mega blocks
2 heart shaped Wilton cake pans
1 heart metal Valentines basket
Lincoln logs set
Mouse trap game (complete looks brand new)
2 kid puzzles- both new (Disney Princess and Littlest Pet Shop)
3 blue table center pieces (for cub scouts)
Small container of Glitter
Wooden craft balls (who knows what I am going to do with these)
Oh and not pictured- a pair of cute boots for Alex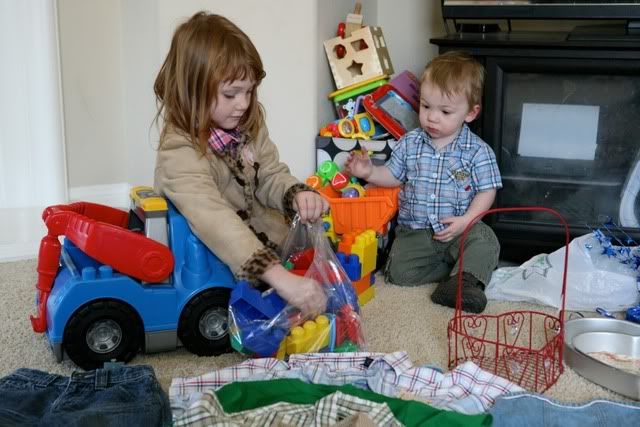 enjoying the loot

So yep, it may be a little silly (which is totally allowed by the rules) but this shopping success made me happy and is my Good News for the week.