Last week I was cleaning out my bedroom dressers. Don't ask, I don't know what came over me either. One of the dressers in our bedroom actually has very little clothes in it, it is mostly old journals, memorabilia and a whole bunch of other who knows what junk.
I found a spiral notebook, not too surprising I have a thing for notebooks and blank paper, and started flipping through it. It was my wedding planning notebook. The notebook I took with me to the Bridal Fair, the one where I wrote a list of who we were going to invite, possible photographers, and all of that necessary information.
As I was flipping through this fell out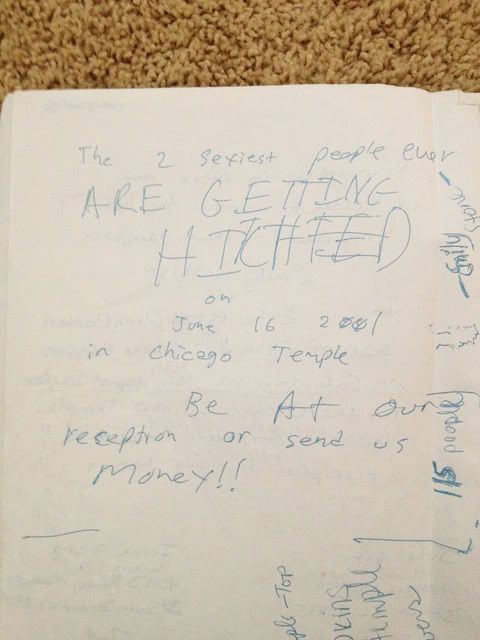 In case you can't read it it says:
"The 2 Sexiest People Ever
are Getting Hitched
on
June 16, 2001
in Chicago Temple
Be at our
reception or send us money!!"
This was my husband's submission for what we should have printed on our wedding invitations. Needless to say he didn't get his way.
Why am I sharing this today? Obviously, not our anniversary- that is in June (11 years!!)
It is because it is the guy who wrote this birthday today!!
To my husband who has always made me laugh, always been there for me, always worked hard to take care of all of us and is my ultimate and forever best friend, I love you and hope you have a wonderful birthday.