I love getting lost in a book.
Most of the time when I read books it is solely for entertainment, to be taken on a ride of emotions. Flowers of Grace by Teresa Hirst, which I was given a copy to review, did just this.
The Book: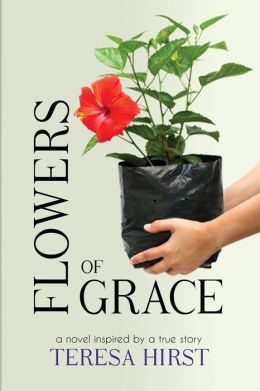 Set in an upscale St. Louis boutique amid a fragile economic climate when retail customers are trading brick and mortar stores for online shopping, Flowers of Grace is a story of love and loss, friendship and forgiveness.

Still mourning a broken engagement, Grace inherits a hibiscus with a legacy she fears she will kill. Doubt in her capacity to nurture anything prompts her to bring the plant into the clothing store she manages, and the dynamic personalities of the female staff band together to help it bloom. Grace and the hibiscus blossom through a wedding and a birth, but its unexpected death pushes her to face false assumptions, opening a path for new love to appear.

The simple gift is more than a plant. When it blooms, so does she. But when it dies, she fears love will too.
My Review:
The story felt very real. It isn't a light hearted beach read, in fact much of the story left me sympathizing with Grace and wishing for better things and just that peace and the life Grace is hoping for, is almost felt a little depressing at times. I found myself almost wishing for the story to go faster just so that Grace could find that happiness I hoped she would eventually find. After I finished, as I looked back and reflected, I realized the speed and flow of the story actually helped in the depth of the lessons and kept the story true to itself and helped it be not too cliche. The author does a wonderful job subtly teaching many lessons, many of which Grace herself has to learn.
I did wish for the end to play out a little more, wanting more of the 'future story' as by the end I had really come to love the characters and didn't want the story to end.
This book is a clean book free of language, graphic imagery and violence. I do
recommend
this book.
Get the Book:
You can purchase the book at the following:
Amazon//Barnes and Noble//Kobo Books//iBooks//
Find the Author at:
Facebook//Website//Twitter
Disclaimer: I was given a copy of this book in
exchange
for my honest review.