I found a great new
blog
, where every Friday you are supposed to link up with a picture you took and tell the story behind it. And we all know how much I love pictures!
Why did I take this picture?

Because sometimes I want to say yes.

Sometimes it is okay to death-defyingly jump off the bed

Sometimes it is okay to stay in pajamas all day

Sometimes we just want to feel the wind in our hair

Sometimes life goes too fast

Kids Grow Up.

So let's have a little fun



Happy Photo Sharing Friday Everyone!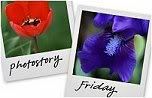 Hosted by Cecily and MamaGeek