When I was just becoming a pre-teen something wonderful happened. My older sister got married. Sure, I was happy for her and all; but the real joy came from the fact that I would be able to move into her room and have my own room all to myself on the second floor! Now that is heaven.
I loved having my own room, I loved the house I had grown up in. It was all I knew. So you can only imagine my pure terror when my sophomore year, due to a job loss, there was talk that we may have to move. Move when I had two years left in school?? No way!! Moving was not something I wanted to do at all.
Fast forward a few years later, I was still in that same house luckily, but was about to make a big move across the country from Illinois to Provo, Utah for college. I felt pretty cool that I was going away further than pretty much everyone I was graduating with. For the next year I called a little box of a room home. It was a wonderful year.
After a summer back home, it was back for my sophomore year. This time I would be living off campus with my best friend and a couple of strangers. We lived in this, semi-ghetto cinder-block walled apartment.. but we were surrounded by other students so it was heaven. Including this cute guy that lived across the way named Eric. After spending lots of time with Eric, we decided that next year instead of having 3 roommates I was just going to have one-one wonderful husband that is.
The semester ended and I needed to be out of my apartment, but was planning on sticking around Provo for the summer. So I moved into what would be Eric and I's apartment by myself and he went home with his parents (no pre-marital co-habitation for us). In June we got married then moved in together.
We liked our first apartment, it was our first place! Sure there was no dishwasher, and sure you had to walk through the bedroom to get to the only bathroom, but it was ours... that is until they were going to raise the rent. So we moved to the other side of town to Villa Maria. Definitely an older, needing more TLC kind of place--but we were young, broke and in love.
We loved Villa Maria. We were both going to school at BYU and Eric was working long hours in Salt Lake and would get home very late. I was about to graduate and figured I would most likely end up working in Salt Lake anyway, so we moved to Lehi, UT--halfway in-between.
Now this was an upgrade! Two bedrooms, huge kitchen.. so wonderful! Except for our upstairs neighbors who fought, let their toilet overflow into our apartment.. those sort of neighborly things. I had graduated, was working for DCFS and Eric just had one more year of school left, so we had a home built.
We loved this home! It was wonderful.
We had all of these great plans for the basement. We even built a pool table in the basement. Eric graduated and started applying to lots of local companies.. and nothing, after nothing... we really wanted to stay in Utah. We had only lived in our home we had built for a year! Finally he did get hired by a local company, the company he had always wanted to work for... but well.. they had some different plans for us.
Off to Durango, Colorado for us. Durango will also hold a special place in our hearts as this is where Lucas was born. But we knew we would never stay; we knew once the hospital was done that Eric was building we would move again.
After about 15 different places that they were going to send us (it seriously changed week to week), we ended up in Mesa, AZ.
This move occurred two months before Alex was born. So at 7 months pregnant I had to find a new doctor.. fun I know. We bought a home in Mesa as Eric's company has an office there and lots of jobs were happening so it was probably going to be a 5-7 year stay.
Well a little thing called t
he economy collapsed. He finished the job he had been sent there to do and there just wasn't any new work there.. so once again, we moved. This time to Southern California. This house is my favorite of all of my homes by far, but we are just renting.. as we still have that darn house in Mesa (word of advice--don't buy a house shortly after the peak before a major crash). So here we are, we have been here for a year now.. and well it is looking like we might be here a while. But, I never hold my breath about this anymore.
So this non-moving girl who never could dream of moving... well I guess you never know where life is going to take you.
Inspired from a writing prompt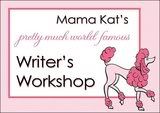 at Mama's Kat's