I have never broken a bone,
knock on wood
. I have never even had to get stitches from an injury. I remember being almost envious at times of people that had cool scars to show with great injury stories. Kind of ironic, since I have a scar running down my entire chest.
As some of you may know, I was born with some heart problems, 4 different problems to be exact, if you want a medical/technical lesson, you can look up Shone's Syndrome--that is my official diagnosis. At birth I seemed mostly fine; I was having some trouble breathing and had to be in an incubator for a while at night, even after I made it home. But then when I was at the age when babies usually double their birth weight and had only gained 3 lbs. something was obviously wrong. I was 9 lbs 1 oz when I was born and an additional 3 lbs. is definitely not doubling my weight.
I ended up having two heart surgeries, one before I was one-year-old and then the surgery the made
the
scar at 5-years-old. I remember after my surgery having to bath in the sink for a while to not get my scar wet. This scar runs from a little over a inch under my throat to a few inches above my belly button. Also from this surgery I also have a nice scar across my right wrist, 4 crosses were the IV was, though now only one is still visible. My mom says I used to be proud of my scar and would tell all of my teachers and friends about it. That was until I turned 11. I remember not wanting to wear any shirt or dress that would show off the top of my scar, pretty hard to do when it went so high. And the one one my wrist, would people think I had tried to kill myself??? I mean, hello I was 11 and this was something that made me different!! Gasp!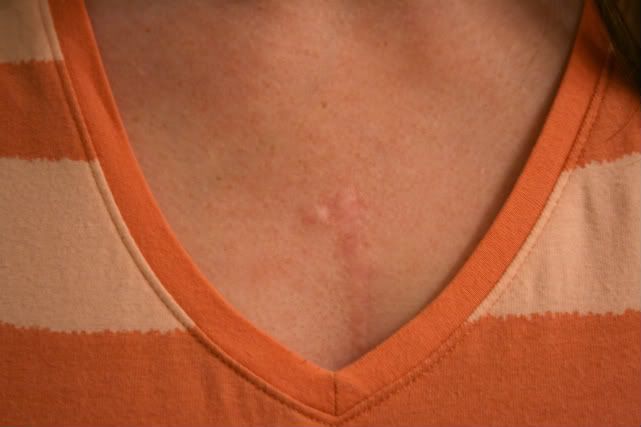 The top of my scar
That bump to the side is because I did not want them to remove a stitch post surgery as I thought it would hurt.

But then I got past the junior-high years and it then became something unique and different in a good way; though I honestly forgot about it most of the time. The funny thing is, as I grew up and matured and was watching my body change, I discovered I had another scar that runs along my bra-line on my side around to my front. This was a much thinner scar, just a small line that I seriously had no idea I had for so many years.
So yeah, no scars from injuries, but I have a few scars. And now I have two more scars and one more soon to come in July thanks to my kids. And speaking of my kids and my scar, the part of my heart surgery scar that runs onto my belly.. when I am pregnant it gets really fat as my belly expands, almost 1/2" thick at the end. Gotta love it.
But I am proud of my scars, as they mean I am alive and healthy and here to write this today.