Well the musical is over. It has been a wonderful/crazy busy roller coaster of a week. Every evening last week I was either at practice or the show. Eric said he now knows what a single dad must feel like; but a little empathy for being a stay-at-home mom is never a bad thing.
The show was amazing. I didn't really get to see a lot of the show, as I was sitting down underneath the stage in the pit as part of the orchestra; but we did have a TV that gave us a view of the outside world and the stage. One benefit of being underneath as opposed to up above is the nerves never really kicked in... though there always is that pre-show excitement and edge.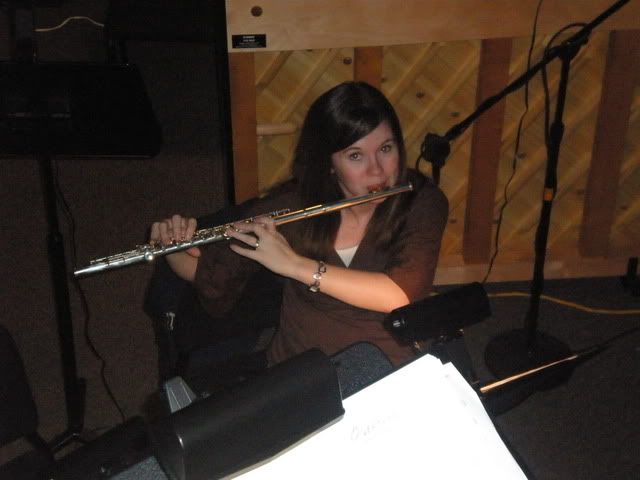 I loved being down there with the other musicians being enveloped in beautiful music. I didn't realize how much I missed that. When you work hard at all of your separate parts and then to hear this beautiful melody all come together so perfectly. And the cast were wonderful. They were truly so appreciative of us, even making sure that we came up on the stage after the last performance to get full recognition; if they had had their way we would have come up after every show. And so many people were awed that I was performing and able to perform with my big baby bump, which I must admit seemed kind of funny to me, but hey who doesn't like a little extra attention now and then.
I truly enjoyed being a part of this performance and now am trying to come back to reality. But I don't want to or need to fully come back. Something this show helped resonate and ring true in my soul again was the
unimportance
of so many of the mundane everyday distractions. What is important, my family, my
testimony
, and my belief in the Savior Jesus Christ. The fact that there are so many that are struggling or suffering from a loss, from an addiction, from a betrayal, disappointments, or countless other reasons and that I
know
and understand of the
hope
that can be brought to them because of the Atonement of our Savior Jesus Christ. I know without this knowledge and this hope, there have been times in my life when I do not know what I would have done. The trials, the hard times, the despair and hurt would not have been able to go away without this hope and knowledge. Life
is
good, there is and can be so much good in this world; we just need to make sure we don't let the everyday distractions and the evil out there overcome this good.
So today as I try and catch up on laundry, get Lucas' to preschool and get my everyday tasks done... I hope I can be filled with this peace and this hope and this truth that I hold so dear to my heart. The show might be over but I don't want to lose the power of it's message any time soon.