The next Cooking Club Recipe was submitted by Rachel. I made early on in the month and everyone loved it. And it is so easy and fast! But DO NOT use 1 cup of Parmesan cheese-you probably only need about 1/2 and can add more if you need. I had to throw away a ton of Parmesan as it did not need that much and had been touching raw chicken.

Chicken Pizzaiola with Mozzarella and Pepperoni
Serves 4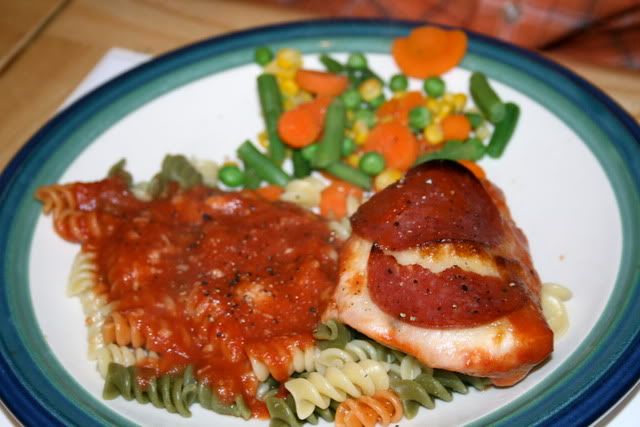 From the editors of Cook's Illustrated: The Best 30-Minute Recipe
3 cups tomato sauce (24-26 oz. jar)
1 cup grated Parmesan cheese (ONLY USE 1/2 c.)

4 boneless, skinless chicken breasts
Salt and ground black pepper
1 cup shredded mozzarella cheese
20 slices pepperoni
(Serve with cooked noodles)
1. Adjust oven rack to middle position and heat oven to 450 degrees. Spread tomato sauce into 13X9 baking dish.
2. Spread Parmesan into shallow dish. Pat chicken dry with paper towels and season with salt and pepper. Working with one breast at at time, dredge in Parmesan. Press on Parmesan to make sure it adheres. Lay chicken in baking dish, smooth side facing up.
3. Place chicken in oven and bake 15 minutes.
4. Increase oven temperature to 475 degrees. Mound 1/4 cup of mozzarella on top of each chicken breast, then shingle 5 slices of pepperoni over cheese. Continue to bake until cheese melts and until thickets part of breast registers 160 degrees on instant-read thermometer, 5-7 minutes. Serve with the sauce over noodles.

Variations:
Chicken Pizzaiola with Provolone and Capicola: Substitute 1 cup shredded sharp provolone for mozzarella and 4 slices capicola for pepperoni.
This family-friendly recipe can accommodate any of your favorite pizza toppings like cooked crumbled sausage, sautéed peppers, onions, or mushrooms, or sliced olives.