Well there is bound to be one, or more, every year. This recipe, which Raelynn submitted this month, is the first recipe that I did not like. But don't stop reading yet, as everyone else
loved
it. I think I am just not that big of a sweet potato and squash fan, so the flavor didn't do anything for me. So you will have to try it and let me know what you think.
Sausage Shepherd's Pie with Sweet Potatoes and Squash


From Bon Appetite Magazine, 1998 (via Epicurious website)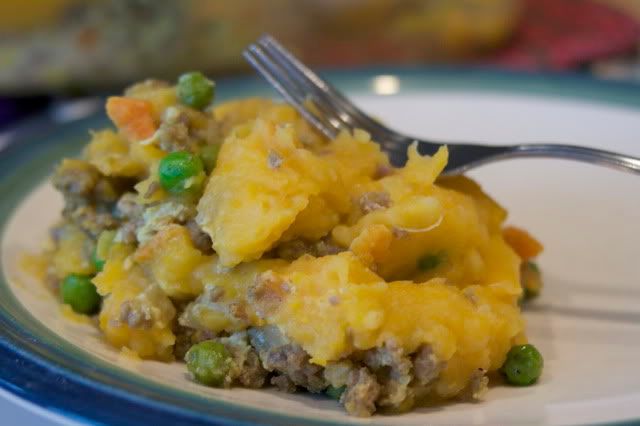 1 1/2 pounds tan-skinned sweet potatoes, peeled, cut into 2-inch pieces (about 5 cups)
1 pound butternut squash, peeled, seeded, cut into 2-inch pieces (about 3 cups)
1 medium russet potato, peeled, cut into 2-inch pieces
2 tablespoons (1/4 stick) butter
2 tablespoons pure maple syrup
1 1/2 pounds sweet Italian sausage, casings removed
2 cups chopped onions
1 tablespoon minced garlic
3/4cup frozen peas
3/4cup frozen corn kernels
1/3 cup whipping cream
1 large egg, lightly beaten
1 1/2 teaspoons curry powder
1/2 teaspoon ground coriander
6 drops hot pepper sauce
Cook sweet potatoes, squash and russet potato in large saucepan of boiling salted water until tender, about 25 minutes. Drain. Return all potatoes and squash to same saucepan and mash. Stir over medium heat until excess moisture evaporates, about 5 minutes. Add butter and syrup. Season to taste with salt and pepper. Mash mixture until smooth.




Preheat oven to 350°F. Butter 8 x 8 x 2-inch glass baking dish. Cook sausage in large skillet over medium-high heat until sausage is brown and cooked through, breaking up with back of spoon, about 10 minutes. Using slotted spoon, transfer sausage to large bowl; reserve 1 tablespoon of drippings in skillet. Add onions and garlic to skillet and sauté over medium-high heat until onions are tender and golden, about 7 minutes. Add onion mixture to sausage. Season to taste with salt and pepper. Cool. Mix in peas, corn, cream, egg, curry powder, coriander and hot sauce.




Transfer sausage mixture to prepared baking dish. Spoon mashed potato mixture over; smooth top. (Can be prepared 1 day ahead. Cover and refrigerate.) Bake until heated through and potatoes begin to brown around edges, about 45 minutes (or about 1 hour for casserole that has been refrigerated). Let stand 5 minutes before serving.




********************************************************
Raelynn's Alterations: Alright, are you ready? :-)
-I used 1 large sweet potato
-Used pre-chopped butternut squash (you could also look for frozen) and I just grabbed some out and eye-balled about 2 cups.
-Used about 6 medium Russet potatoes as she as trying to use them up.
I just threw all this in the oven (the squash I lightly wrapped in aluminum foil) and baked it all together for a while until the stuff was soft. I don't know how long it took, can't remember. Then I actually put the squash into a dish along with the sweet potato (which now should basically fall out of the skin). I mashed 2 Tablespoons of syrup into this with some salt and pepper.
Since I had too many russets I emptied them out into another dish and then mixed them with the butter and salt and pepper. I kept some of the russet mash separate (to pile into one corner of the pie for Kate since she hates sweet potatoes), I froze some (to use in these samosas I make) and the rest (just eyeballing a good amount, definitely more than the 1 called for in the recipe) I threw in with the squash/sweet potato. At this point I mashed up everything all together and put the mash in the fridge.
Now onto the meat mixture:
I was only using stuff I had on hand, so I used ground turkey instead of sausage. And I definitely didn't use 1.5 pounds, more like 1 (if that). I cooked my onions and garlic first, just slid them over to the edge of the skillet and then added the meat. I like to add the spices while the meat is cooking because I think it flavors things more. I added some fennel and thyme in addition to the curry and coriander since that is traditional in sausage. When the meat was almost done, I stirred in the onion stuff from the side, dumped in some random amount of peas and corn, and finally added the egg which I had lightly beaten into the cream beforehand. I did use cream but would probably just try milk instead since it isn't very much.
I threw the meat into a casserole dish (unbuttered) and piled on the mashed veggies and baked for about 30 minutes.
It was so yummy to me that I am going to make it again. For sure.


I think I would have liked this dish if I had used more russet potatoes and less sweet potatoes and squash. So you can try the regular way, or Raelynn's alternative (I followed the actual recipe). If you do make this, let me know which way you made it, or if you had your own alterations.

And as usual, submit your reviews and I will feature them when I review all of the recipes in about a week or so.

***Also don't forget to write your

Ten Things to Smile About

Lists to come back and link up on

Tuesday.