I was looking through the writing prompts over at
Mama Kat's
this week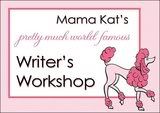 and number two struck my interest; it says "When do you first imagine yourself wishing you were older or bigger? Write about it." And you know, I honestly don't remember. I am sure as a teenager I couldn't wait until I was older so I didn't have to listen to my parents, that sort of thing.. but well I am currently dealing with a three-year-old who pretty much on a daily basis talks about what will happen when she is older.
So here are some of the things I hear on a pretty regularly...
"When I am a Mommy, then there will be two mommies and we will all sleep in the big bed together"
"A baby will grow in my tummy when I am a mommy"
"After I am 3, then I will be 4, then 5, then 16"
"When I am big like you then I can drive the car"
While sitting on the toilet: "When I'm a mommy, I will cover the whole toilet because Mommy's are bigger"
"When I am a mommy I will put makeup on here and here" (pointing to eyes and cheeks)
And my favorite and the one I am almost afraid to post as it might bring some creepy people through Google searches: "I have little boobs, someday I will have big boobs like you"
So yes, my 3 going on 16 year old... just slow down and enjoy being a kid. After all when you are a mommy you will have to deal with a dramatic stubborn three-year-old just like you, or I can only hope.