Another great month of recipes, though this month included--gasp--the first recipe I did not like! But everyone else seemed to like it... so with no further adieu; once again starting with first March recipe posted.
1)
Cream Sauce with Sausage and Peas
-- submitted by me
Me:
"So so easy and the kids loved it! I just used the tubes of sausage, so there wasn't a casing to remove. I will definitely be making this recipe on a regular basis."
Raelynn:
"It also was very easy. It was very tasty and we all enjoyed it. I don't think I had any problems or issues with this recipe. No hot sauce was involved and Kate ate a whole bunch. I wonder how it would work out to use milk instead of cream. Then I could make it anytime in a pinch."
Melidee:
"We loved it, what can I say? I knew as soon as I read the ingredient list that it would be something yummy. Glenn said, "Be sure to say I really liked it." I ate one serving and he cleared out the pan. I like something like this, easy, with a very tasty blend of flavors."
Rachel:
"Another nice and quick recipe. Madeline devoured..and I really enjoyed it." She halved the recipe for her family.
And one of my great readers not only made this recipe but posted about it on her blog:
T.J of
Any Given Moment
made this recipe with some great alterations, you can see it on her blog
here
.
RECAP
: 5/5 Stars- Super fast and easy, few ingredients and everyone loved it!
2)
Chicken Pizzaiola w/ Mozzarella and Pepperoni
-submitted by Rachel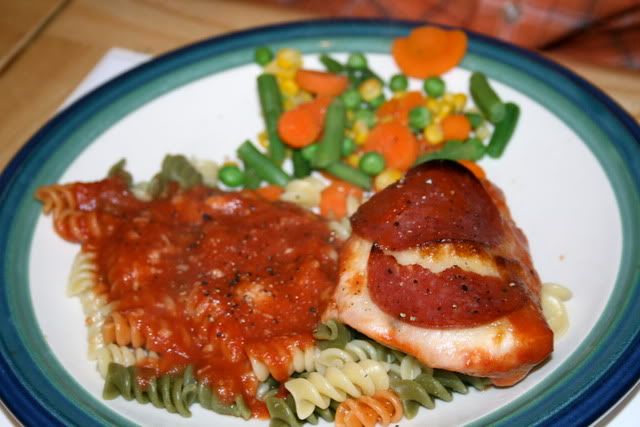 Me:
"We all really liked it. I put dry salami on top of our chicken, and the kids love salami but they both wanted it taken off of their chicken, go figure; but it was an easy enough change. And 1 cup of Parmesan was WAY too much- you only need about 1/2 cup."
Raelynn:
"I loved it. We want to have chicken pizza again! And I guess my lack of measuring came in handy this time since I just put some Parmesan in a dish until I thought it looked like a good amount to cover 3 chicken breasts. And it was. But it wasn't a cup worth. The truth is - I do not measure anything really. Not really ever. I had 1/2 a french bread loaf leftover from something so I just split it, and made garlic cheesy broiled bread to go with the chicken rather than pasta." This was Raelynn's daughter Kate's favorite recipe this month.
Melidee:
"I thought it was a fabulous recipe and I served it with pasta. It's funny how much I liked the pepperoni in it--I liked the twist and I am sure I will make chicken pizza again!"
Rachel:
"Quick juicy and tasty. I'll make it again. I think it would be fun to make with different variations. I'll probably put some olives on it next time because Todd and I love those."
And another great reader who's blog I have more recently discovered is Hippie Mom of
Hippie Mom.
She said "I made this chicken last night, and everyone loved it! Thanks for the recipe!"
RECAP:
5/5 Stars- Great recipe with simple basic ingredients that everyone liked, even a 5-year-olds favorite.
3)
Balsamic Rosemary P
ork
-Submitted by Melidee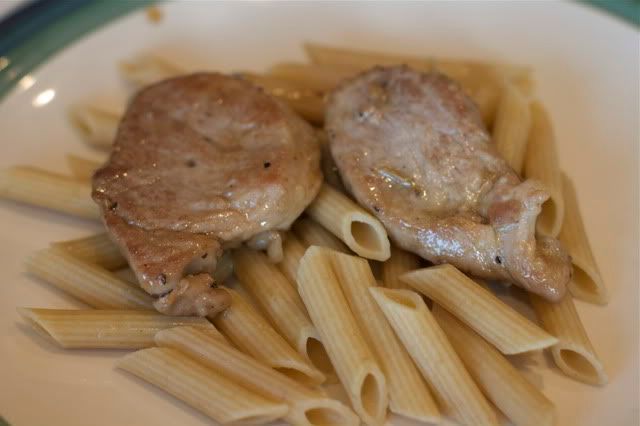 Me
: "I was going to make it earlier in the month but the pork loins were expensive, I waited a week, went to a different store and was able to get a 1 lb one for only $5, much much better. It was a simple easy recipe and everyone really liked it. I liked how few ingredients it had. It isn't really a standby recipe as I don't usually have a pork loin, but one that would be easy to make with a quick trip to the store."
Raelynn:
She ran into trouble as the only pork loin they sell at her local grocery store was a humongous 8 to 9 lb pork loin; so she substituted country pork loin boneless ribs-which resulted in some dry meat and some that wasn't. Even with her changes she said "I still liked it. In fact, I really liked the broth/balsamic/honey glaze and I think it would work with chicken too."
Rachel:
"I made real mashed potatoes to go with it and it was a true Sunday dinner. I have to say that is was my best experience with Balsamic Vinegar which I normally would say I do NOT like. But I guess the honey saved it for me. I really enjoyed it and Todd was also happy with the Balsamic turnout."
RECAP:
4/5 Stars- Easy yummy recipe, if you can find a good porkloin (and a good price on one), otherwise could end up a very expensive meal.
4)
Sausage Shepherd's Pie w/ Sweet Potatoes and Squash
-submitted by Raelynn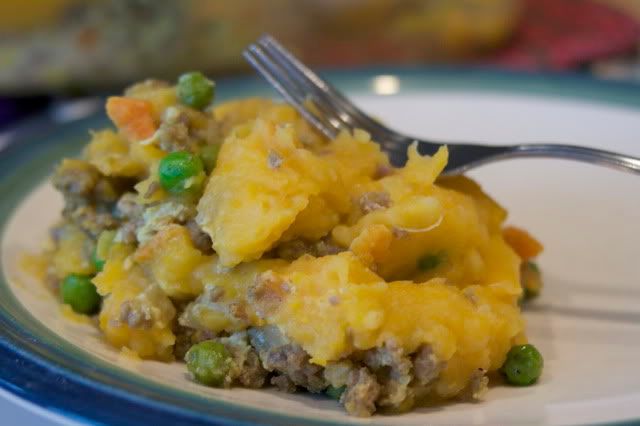 Melidee:
"WOW! We both loved it. I got a kick out of all of Raelynn's changes. I tried to add the maple syrup when he wasn't looking, but he caught me. At least he knows now that these recipes we cook sometimes have unexpected ingredients. I enjoyed the flavor that added to the mashed veggies. I also threw in the extra spices Raelynn suggested. I thought it was so good, and I loved the fennel flavor too. It was such a satisfying meal. I served it with cream biscuits from the America's test kitchen cookbook. Oh man...we were in heaven. The one thing I didn't like was how long it took, but I think if you did the mashed veggies in the morning that would take care of that problem. "
Rachel:
"I really enjoyed Raelynn's dinner. Todd thought the reason it was good was because of the sausage, and that was probably the one thing I would change if I were to make it again. I loved the mash on top, but would have preferred about twice as much mash for the meat that it had. I'm not a sausage fan in general. But the flavors all went well together and we really enjoyed it."
Me:
"I started it about 4:30 and it was all done and ready to eat about 6:10, so it took a while. I boiled the potatoes/squash as it called for and then threw them all in the kitchen aid with a little bit of the water and mixed them up; they were so nice and smooth-but really really orange. And how we liked it... well Lucas ate a few pieces of sausage that we fished out of it, Alex ate several bites as she was eating bites to get to the peas, Eric really liked it.. and I didn't really care for it way too much sweet potatoes and squash for me. I wish it had more regular potatoes."
RECAP:
3/5 Stars-takes a LONG time to make, not difficult, just lots of time and steps. Most loved it, but if you are not a big fan of sweet potatoes or squash you might want to change the proportion of potatoes.
********************

So another great month! Last Saturday I already posted
April's first recipe
and will submit the second one this Saturday. There are going to be two vegetarian recipes this month, including the one from last Saturday. Happy cooking!