I am not a neat cook. I don't do any cleaning along the way. And well sometimes I am in a hurry and might spill a few times. I have many cookbooks that have little stains on them from spills. So when I saw this
Cedar Delite Book Stand
I knew it was for me.
I was so excited when it came in the mail from
CSNstore.com
. I was immediately impressed with the feel and color of the wood, it felt durable and like it would survive my crazy cooking ways.
I LOVE the rubber-tipped pegs that slide up to hold open the book. The cookbook I use a lot is the cookbook that I put together for myself and the other members of the
Cooking Club
when we did it the first time around a couple of year ago. I printed the book on Blurb and it is so wonderful except it does not stay open, I should have got it printed with a ringed edge. I usually would use a heavy measuring cup or box of food along one edge to try and keep it open while cooking, but I won't have to do that anymore!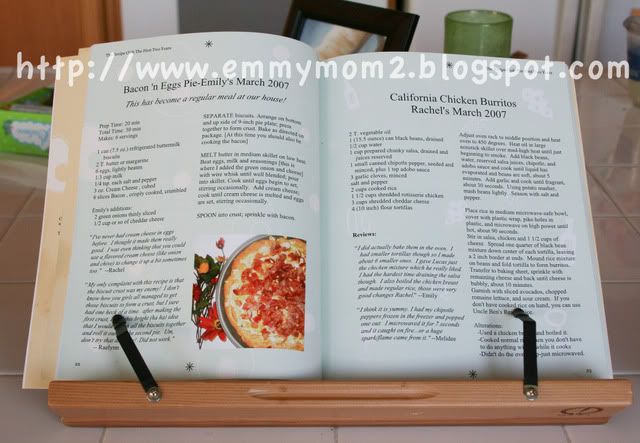 When I was picking out a cook book stand I also had another specification that I required. Whenever I make a new recipe from the Cooking Club, I don't bother printing it out and usually just pull it up in my e-mail on my iPod Touch. So I would usually place my iPod close enough, but far enough away from my crazy splash zone to read the recipe. So I wanted a place where I could set my iPod too... and well since Saturday, now the iPad.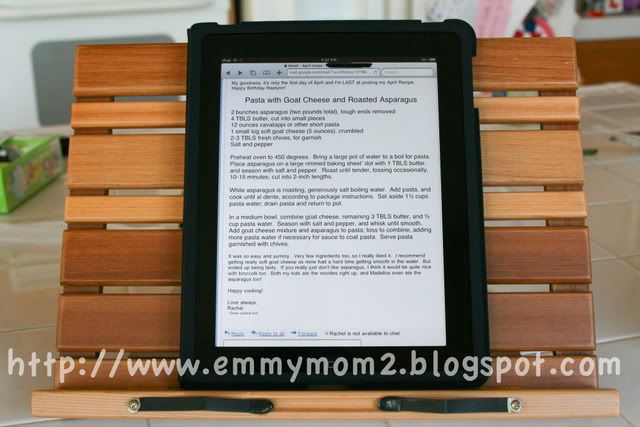 So I am in love with my new Cook Book Stand.
Disclaimer: I received this product from CSNstores.com to review and for my own use; but all the above opinions I expressed are totally true as I would not lead my readers astray. (It is on sale for only
$25 with free shipping
! So worth it)
*****************************

And don't worry- I will be back with my
Time For Tot's Day
Next week.. it is spring break, and well we are having a lazy week-and we are at my sister's today.
Also the reviews from last month's
Cooking Club recipes
will be coming on
Thursda
y!! So you still have time to submit your review if you tried one of last month's recipes.