Today I am linking up with two great memes,
The Daily Dribbles
-Thanks a Lot Thursdays and also with
Shortmama's
Letters to Someone, as this week my letters are full of many "thanks".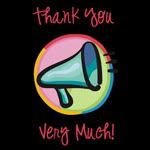 Dear Lady in line in front of us-
First let me just say, good morning? How are you? Are you having a good day? Did you notice the 5 people in line behind you, including the very pregnant lady with a toddler when you asked the cashier to rescan your entire order because you thought the price was wrong??? If you
have that big of a stick up your butt
are that concerned about your order being right, you can watch that big screen they have facing you that shows the cost of each item WHILE she is scanning it the first time; just a little hint for next time.
And you know, you are very very lucky my little angel was being just that as otherwise this big pregnant mama would not have been silent.
Thanks-
The pregnant mama you are lucky was in a good mood
Dear Body-
The tearing, the pulling those painful little aches.. all part of my muscles being ripped apart as they try to expand for the baby growing in my body; I remember all of those from my first pregnancy. My wonderful tight little stomach was destroyed, but it was for a good cause so I didn't complain. During my second pregnancy, the path was already cleared ready for you to do your thing.
So the other day when I started feeling those little ripping, tearing feelings I did NOT like it. Come on, this is number three! Your path has been cleared twice now. Sure I am already as big as I was when Alex was born.. but seriously! I try to treat you well; I give you chocolate, I eat that extra cracker with cream cheese, I only occasionally send my kids upstairs to get something for me. So let's be friends.. no more ripping and tearing please!
Thanks!
The mom who doesn't want any more pain
Dear Drumsticks-
Yes, I did just buy two boxes of you. I do adore you, especially you without the nuts on top, thank you. But you know after I have this baby and after I fully recover; I fully intend to finally get my stomach back. So as much as I adore you, in a few months you are just going to need to get lost. Seriously, you tempt me too much.
Thanks,
The lady who wants her abs back