Today is a good day! Not only is it Friday, but today I have been Tickled Pink!
Holly from
504 Main
featured my blog today! So welcome, welcome anyone who may be new coming from Holly's blog. If you have not seen
Holly's blog
, definitely check it out! Wonderful blog with such cute craft ideas; in fact the birds we made during
this
Time For Tot's day were inspired by her blog.
And for those who might be new, a little about me:
I am a mid-west born, now California living stay-at-home mom of 2 1/2 great and crazy kids (the half will become a whole in July). I try and see the good and positive in life; though some days this is definitely easier than others. When those days are just really bad.. well then I try and find something funny about it, because hey, it makes good blogging material. I love photography and am currently in the 'building my portfolio stage' of my career. I love blogging and have enjoyed getting to know so many other great people.
Some things you might like on my blog:
Time For Tots Day- Once a week I try and spend some extra time creating with, teaching and playing with my kids (to rid myself of mommy guilt). I pick a theme and find activities that relate with that theme. Then every Wednesday I share what we did, along with the links so you can do it with your kids too.
Cooking Club-A couple of years ago while in a cooking rut I started along with my MIL and SIL's a cooking club. We would each pick one recipe to e-mail to each other every month. That way we had four new things to make. At the end of the month we would send our reviews of the recipes with our likes our dislikes, our successes, our changes, etc. We are doing it again and every Saturday I share those recipes with you to try out. Then at the beginning of the following month I post the reviews and recaps of each recipe; and I also feature any of my readers who try the recipe and leave a review.
Ten Things to Smile About- At the end of the month I like to look back and remember the good/funny things of the month and write a list of ten things. You can join along and link up with your list. This month, Mr. Linkey will be up on Tuesday the 27th for you to share your list. And pictures are NOT required; I just like taking pictures.
So those are a few of the main things on my blog, feel free to look around and comment. I always try to visit anyone's blog who comments on mine.
-----------------------------------------------------------

Oh, and a little birdie told me that part of the reason I was Tickled Pink today was thanks to my wonderful cousin-in-law
Lourie of CA Girl
who nominated me. (she and my husband are cousins)
And well...last night's dinner conversation ended up being quite timely with this nomination.
Lucas: (randomly during dinner) "Who am I going to marry when I get older?"
Eric: "Probably some nice girl we don't even know yet."
Me: "Who do you think?"
Lucas: "Maybe Emily"
Me: "Me?"
Lucas: "No Ryan's sister Emily" (CA Girl's daughter)
Me: "You can't marry her, she's your cousin. So you can't marry her just like you can't marry your sister."
Lucas: "But then who am I going to marry?"
Alex: "I'm going to marry myself."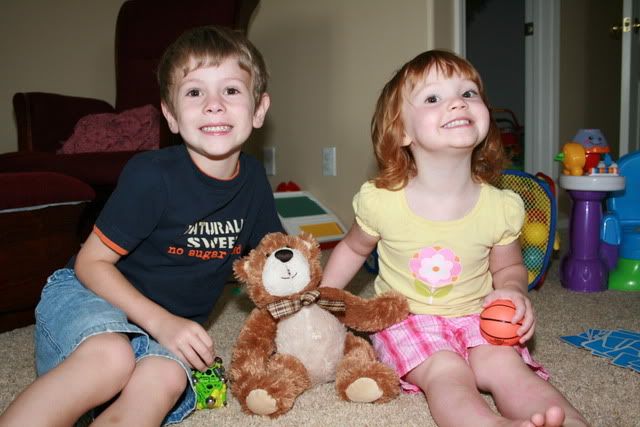 My two kids
Lucas wants to marry his cousin... Alex, well herself