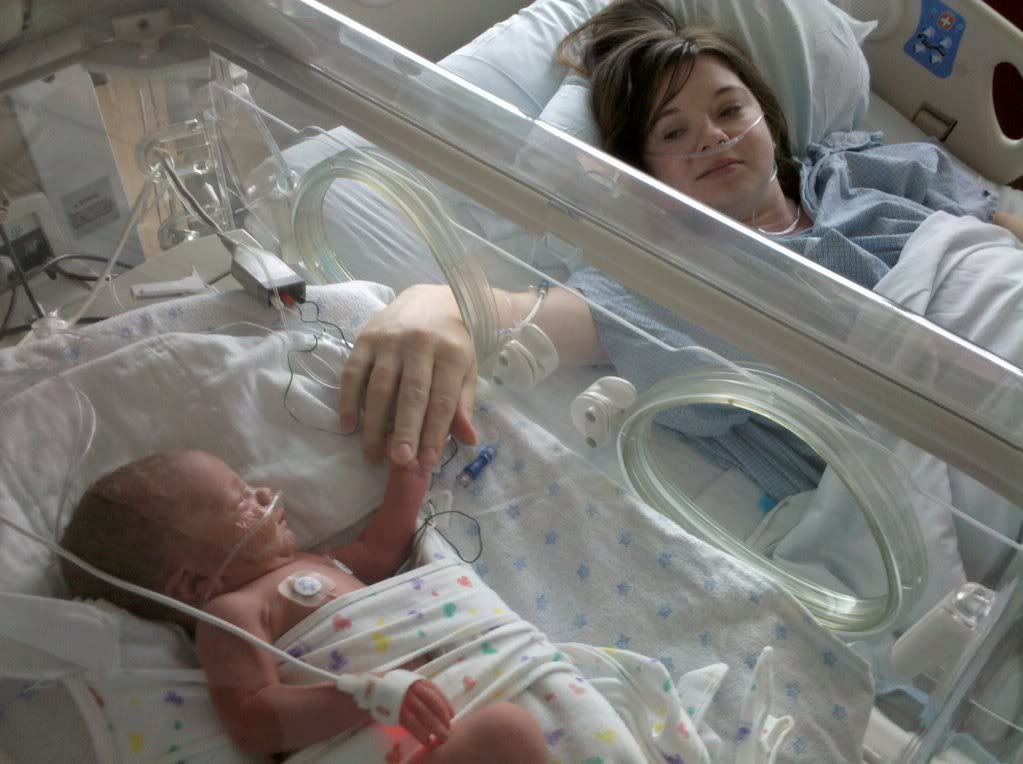 Well another day has come and gone. Here is finally a pic from the first time I saw Ryder. I will try and post more pictures tomorrow.
I held Ryder for the first time Saturday afternoon. I could have sooner but I was feeling all flushed and sick again so wanted to wait for that to pass. When I first went down to see him I just sat there and looked... It is still half unbelievable that this little guy is mine and that he is here already. He got fussy so I opened up the little door and put his paci back in, which he is already sucking away like crazy on, an awesome sign and development. I then just put my hand so gently on his. He opened his hand which is only two inches long and grabbed onto my fingers. I loved it.
I then got to hold him. Though so small he was a lot less fragile then I thought he would feel... It just felt so right and good to hold him. He quieted down when I talked with him and just held him up against me. He is feisty already they say and got very mad when they were trying to do his footprint... But I am used to feisty kids :)
Speaking of, Lucas and Alex were able to come see him today. They covered his head with a cap before they came as he has an IV right in in his head as he kept trying to bump and pull it out. I did not even know they could put one there. The nurse took a picture of Ryder and then another picture with Lucas and Alex standing next to his bed and made it into a scrapbook page for us. She printed off two extra pictures so the kids could each have one. On the page it says, 'Lucas and Alex came to see me for the first time today. Alex just kept looking at me and Lucas was all smiles.' They came back and told me how they talked in their quiet and medium voices while they were down there so they wouldn't scare the babies.
I have been so happy with the care and concern both Ryder and I are getting here. And it has been so nice to have so many great guests, including my best friend from college Amy, stop by. What could easily be a horrific time has been one mostly filled with love and peace. I will always be grateful for that blessing from my Heavenly Father.