We are home! We are back! We pulled in to our driveway and saw a big sign and chalk writing on the driveway welcoming baby Ryder home. I have no idea who did it, but was so happy to see it.
The first few minutes as I walked around the house I must admit it felt pretty foreign and weird (tomorrow will mark one month since we left for our vacation); but then it was quickly home and I was so glad to be here.
So today will be our first day on our own... so far so good, as Eric started a show for Alex so I could sleep some more.
And since I am trying to get back settled in I figured today is a perfect day to participate in
Oswald Cuties
Monday Mugs.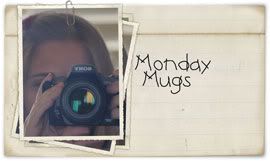 The theme this week is
play
. The few days before I had Ryder in Utah, it was all about play; when there are 6 kids 5 and under there is going to be some fun.