When you come home from a date with your spouse, this is the last thing you want to see.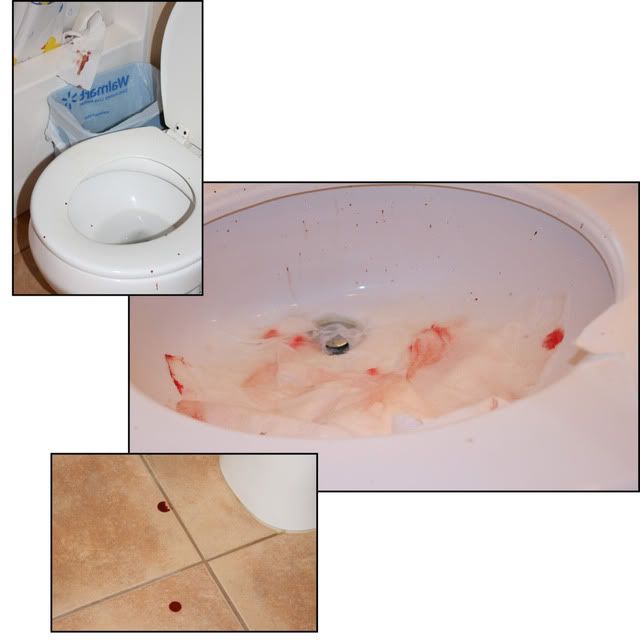 Eric and I doubled with another couple Friday night. We went to dinner then headed downtown for some ice-cream and fudge. We were sitting on a bench enjoying our ice-cream when
Lourie
called me. Her oldest daughter was baby sitting for us and apparently she had been trying to call us (a loopy number two was confused for a backwards six in the moment of panic) so she was not able to get a hold of us to tell us that Lucas had a bad bloody nose. Lourie said Kristen was freaking out a bit. And we, knowing Lucas, figured he was too. We cut the date short and hurried home.
Lucas was sitting on the couch, no longer bleeding, watching
How It's Made
. Lucas had been in bed when Kristen heard him sniffing a lot. She went up to his room to find blood pouring from his nose. She got him into the bathroom and tried to help stop the bleeding. The blood kept dripping into his mouth so he was constantly trying to spit it out making it just splatter all over the place. Kristen said Lucas was actually pretty calm but looked like he was going to cry at one point. She asked him not to cry as she was barely not losing it herself. And he did, he remained calm! He even put Alex back to bed after the bleeding stopped as she had come out during the commotion and was scared.
So all was well and we are proud of both Lucas and Kristen for how they handled it. How calm Lucas stayed truly was a tender mercy. The magnitude of this tender mercy was made very apparent with the amount he freaked out at 1:00 AM when it stared majorly bleeding again.
And here is a cute picture to help counter the gross images above.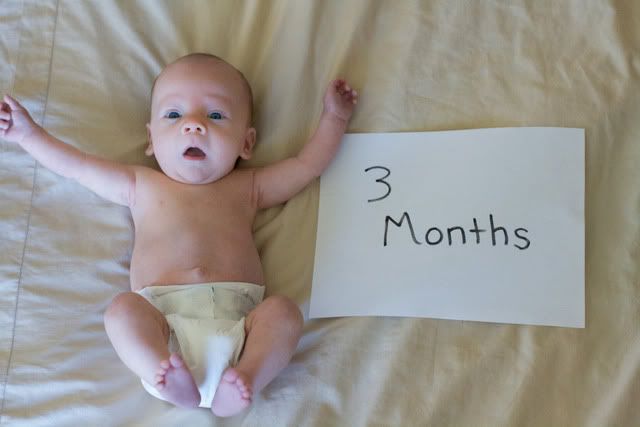 On Saturday Ryder turned three months old.