Do you know what today is? No? Well I will tell you:
It is Lourie of
CA Girls
birthday!
Have you not met Lourie? Well neither had I, at least not really, until we moved to CA almost two years ago now. Did you know we are related?
Lourie is Eric's cousin, so she is my cousin-in-law. I have been very lucky to be able to live by her these last two years.
Not only is she incredibly kind, but she is funny, a great blogger, our kids love each other, and I just really like hanging out with her.
So go over to
her main blog
and wish her a happy birthday. Go ahead.. I'll wait....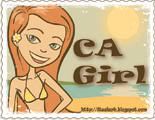 If you like pictures, check out her
Point and Shoot Blog
. On a weight loss journey of your own check out her
Metabolism Blues
blog-she is doing awesome and has made a lot of her weight watches goals and looks great!
Plus-she and I are about to embark on a little meme together. September 14th will be the debut of
THE STATUS QUOTE
. What is the Status Quote? It is a time to gather up our own or our friends funny/weird/silly facebook status updates and post them. Don't do facebook? Steal them from Twitter? Don't tweet... then just read and enjoy the funny things everyone else is saying. I already have a post in draft form where I am copying funny status as I see them. This will probably be a monthly meme the 2nd Tuesday of the month.
So in honor of Lourie's birthday I told her to keep tomorrow free, I will be at Lucas' school today as he is getting an award!
But shh it's a surprise. Oh, I did tell her not to eat breakfast... so hmm maybe it isn't that big of a surprise. But I want to support her in her weight loss journey so I had to give her a heads up :)