It's Thursday.. this week is almost over and I am ready for it to be. And it is Thursday so well I am ready to thank a few things in a very sarcastic manner.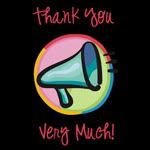 Oh but before I do--please please go vote for me
here
. It is for my cute Tootsie Roll Video the kids and I made. All you have to do is click one little button in the sidebar poll-vote for Emmy Mom! Thank you thank you. So once again just go
here
-today is the last day to vote!!
And now my Thank You's.
To the Weather-
Thank you very much for teasing us with this nice cool weather and then getting hotter than you have been the entire summer! Seriously 108 at the end of September! In case you did not get the memo, I don't live in Arizona anymore. So thank you for making me hide inside all day as let's face it, I don't live in Arizona anymore, that is just too hot.
Thanks-
The lady who likes good California weather
To the Upstairs Air Conditioning-
Thank you so so much for running great and keeping us cool during this extremely hot time. What's that you say? You didn't do this, in fact you stopped working; oh that's right, how could I forget? I mean I love trying to go to bed at night when it is 83 degrees
inside
. Thank you for that.
Thanks-
The lady who was sweating in bed
To the Mouse in the AC Unit-
Did you somehow cause the compressor to blow? Probably not, but you are disgusting anyway. So thank you for visiting us, I am glad you are dead-I hope your rotting stench keeps your friends away.
Thanks-
The lady who likes it when the AC works
So head over and write up your thanks for the week. And please vote for me. Today is the last day, so no more begging after this.