Here
is the last recipe for the month

,

submitted by Melidee. I haven't made
it yet, but will be sneaking it in on the last day of the month.
Oven Meatball Stew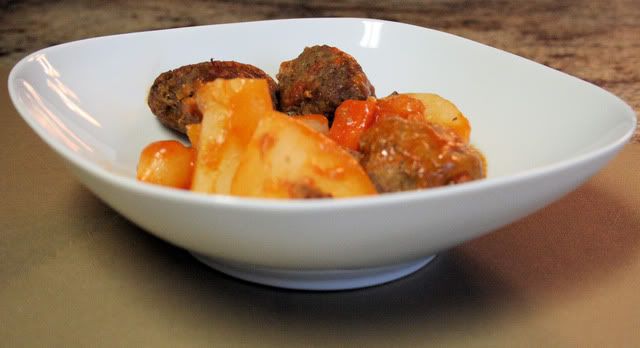 prep time 25 minutes oven time one hour
Ingredients
1 egg

1/3 cup milk

1/4 cup cornmeal

2 tablespoons finely chopped onion

2 tablespoons finely chopped green pepper

1 1/2 teaspoons ground mustard

1 teaspoon salt

1 teaspoon chili powder

1 pound lean ground beef

2 tablespoons olive oil or vegetable oil

1/4 cup all-purpose flour

2 1/2 cups tomato juice

12 fresh pearl onions, peeled

3 medium potatoes, peeled and quartered

6 medium carrots, cut into 3-inch pieces
Directions
In a bowl, combine the first eight ingredients. Crumble beef over mixture and mix well. Shape into 12 meatballs. In an ovenproof Dutch oven, brown meatballs in oil. Remove with a slotted spoon and set aside. Whisk flour into drippings until smooth. Gradually whisk in tomato juice; bring to a boil. Cook and stir for 2 minutes or until thickened. Return meatballs to pan. Add vegetables; stir gently. Cover and bake at 350 degrees F for 1 hour or until meat is no longer pink and vegetables are tender.