Before I get to my regularly scheduled post a bit of business first.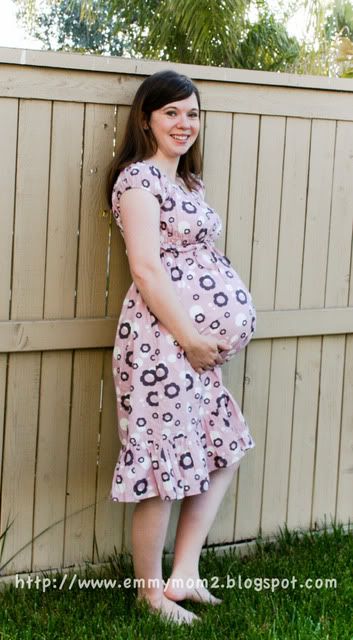 1) Do you remember that great dress I got from
eShakti
? No, well here I am wearing it. Obviously this was a little bit ago. But anyway-if you haven't heard of
eShakti
, please check them out-awesome awesome clothes that are
customizable
for only $7.50!
The best part-through the end of this month you can use the discount code
EmOET4 to get 15% off
of anything on their site!
I know I will be ordering something again soon, now that I am minus the bump.
2) Did you realize the second Tuesday of this month is next week? Do you know what that means? That means it is the next round of
The Status Quote
. For any who may not know, this is your chance to share those funny/sad/weird Facebook or of Twitter status updates. You don't have to share who said them or you can either way.
3) This month will mark my two-year blogging anniversary.. so stay tuned for a giveaway next week! My two year anniversary technically isn't until the end of the month-but with Thanksgiving at the end of the end of the month it is just too busy of a time.
********************

And now-it's Friday so it is time to confess. Head on over to
Glamazon
and see all the other great confessions.
I have not stolen any of my kids Halloween candy this year.
No, honestly I haven't. We had a major shortage of trick-or-treaters and I overbought like usual so I haven't had to steal any of theirs, I have so much of my own.
Well I guess I did eat one of Lucas' Reeses Peanut butter cups that he had put in the fridge, but I thought it was mine as I am the one that usually does that.

Have you eaten Reese's Peanut Butter cups this way? No, you should.. so good just a little bit cold.
But I gave him one of mine when I, I mean he, realized I ate his, so it is all good.
Speaking of Reese's Peanut Butter Cups-I may have been sneaking one about two minutes before dinner-and when the kids came into the room I knew I had to hide the evidence fast, so I may have thrown the wrapper in Ryder's diaper I was just about to throw away!
Genius!
Then you can't see all of the wrappers lying in the garbage either-just a bunch of diapers.
If you haven't figured it out by now, I really like Reese's Peanut Butter Cups.
In fact I even wrote a diary entry about it when I was 9-years-old about when I stole one from my brother and I felt bad-but not bad enough because I like them so much.
Ah, I think I might have just figured out why my muffin top isn't quite leaving me.
Hmmmm....

But I like them too much.
Hope you have a great weekend! First November Cooking Club Recipe will be up tomorrow.