This was a great weekend. Not only did I have some visitors (well they have been here all week) but Eric had the weekend off! Eric has worked 26 consecutive days... yes even on the weekends. He hasn't had a Saturday off pretty much since November. So we were very happy to see him.
The fun began on Friday-when Eric, Ryder and I were able to attend the VIP Grand Opening of the hospital he has been building the last two years. He has truly been working very hard and should be proud of he and his company's accomplishments.
Friday night we went out to dinner to Red Robin then swung by the hospital for our own after hours, private VIP tour. There are benefits to being married to one of the bosses.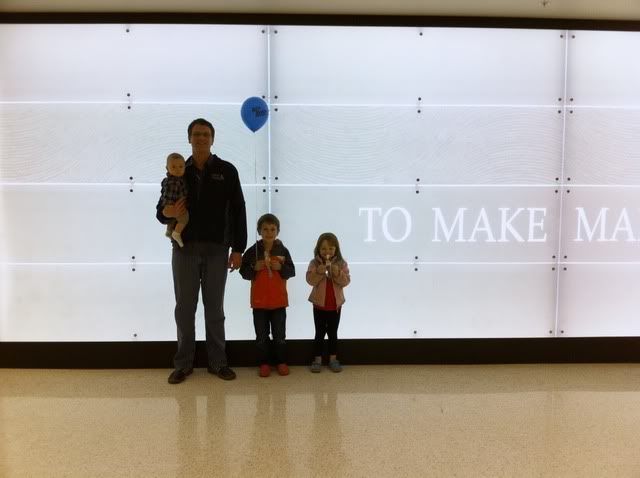 In the hospital lobby (our two guests came with on the tour)

Saturday, it was time for Mommy and daughter haircuts! This was Alex's first real haircut, I have trimmed her bangs before but nothing else.
Before and After (though my hair was not styled yet-just cut and it looks much better styled)

After the girls got all beautiful, we went with the family to Tom's Farm for an afternoon of fun and finished off the day by attending my cousin's little boy's birthday party.
My family

You can see more pictures from our weekend on my Photo blog by clicking here.

And the company I had? Well, I will be telling you all about them on Wednesday-but here's a little sneak peak to get you excited to hear all about our adventures.
*******************
P.S. Don't forget TOMORROW is your the day for the Status Quote!! Link up tomorrow!