It's time for the next round of the Status Quote.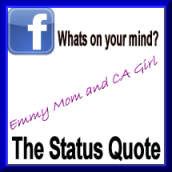 What is the Status Quote? This is a monthly meme that
CA Girl
and I do together. It is your chance to copy those funny/weird/bizarre or just interesting Facebook (or twitter) status updates that you see. You don't even have to tell who said it! So you can totally put something embarrassing or weird that your friend said and no one will ever know.
So, copy those status, post them and then come back and link up. Talk about an easy post!
So here are a few favorites I saw out there this last month " "-
yes, I don't want to admit how often I feel this way
" "
LOL so so sadly true
-
good mom moments are wonderful
"-
don't cross this person the wrong way
"Me: "daddy is going to try and be home before you are in bed tonight; they are just getting different wings of the hospital approved." -
-makes me grateful for FB and a blog so I record moments like this
So now link up and play along! You know you want to!