Happy Friday everyone! Do you love Friday's as much as I do? This year they have become my favorite day of the week. 2/3 of my kids have school, no homework in the afternoon, don't have to cook dinner since we go out to eat on Friday's and the promise of the weekend.
And Friday's have an extra little bonus because it is fun to "bare my soul" with
Glamazzon
and
Mamarazzi
. Usually I use this chance to rant and rave a bit and just lay out all of the crazy thoughts in my head at the moment. Today I am going to confess about things that make me happy-this isn't to be confused with my
Ten Things to Smile About
Lists-but just those random things-and so well speaking of my Ten Things list:
#1- when people link up to any memes I do. Let's be honest-after all this is a confessional-it makes me so giddy when more and more people link up, I feel sort of validated as a blogger and happy that people enjoy reading what I write.
Some may say they blog to keep a journal or to keep a record of their life-and while this is part of it-admit it, we all blog for the ego stroke, the validation. If it was just to keep a record of our life or even share with our family we would just have a private blog. We all want to feel connected and like we aren't on this crazy ride alone. Some of us need a little more validation than others-but we all want it.
Which is why sometimes I will put a picture I love on FB and when I don't feel it gets "recognized" enough, I will come post it here as I know you all will throw me some love.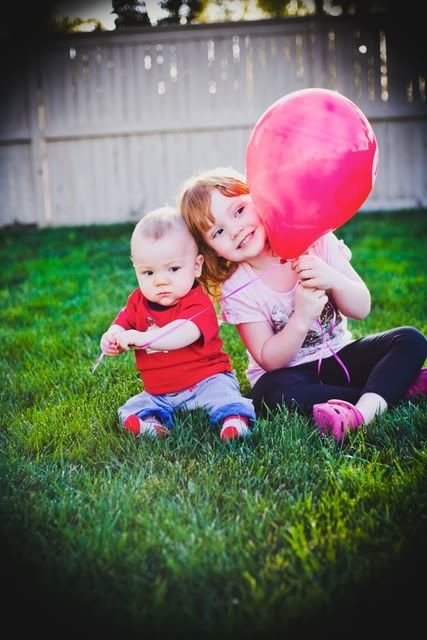 So validate away-how cute is this! Ryder was determined to get that balloon from his sister. Couldn't have posed this moment if I tried.
#2 Cheese- slices, chunks, stringed, the cream variety I love it all. Whether it is all by itself, on crackers, or rolled up in a piece of meat. Mmmm I love cheese.
#3 Making little videos, taking good pictures, creating some awesome craft or project-- especially when I actually finish it, which with the craft thing is often not the case. There is something powerful and wonderful about creating something beautiful-which is why moms are so darn proud of and think their kids are always the cutest-we created them!
#4 Good Food--hmmm I already said cheese--I think I am getting hungry, after all it is breakfast time, so before this post totally becomes about food as that is all I can think about it right now, I am going to end it here and go eat breakfast.
What are some things that make you happy?