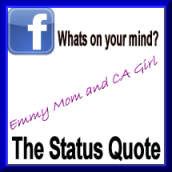 It's that time again, time to copy those funny/weird/strange FB (or twitter) status updates for an easy and fun post. Then grab the button, publish your post and link back up with
CA Girl
or I. "
And speaking of Walmart:
"-
Actually that is incredibly smart as they know being in their will raise your blood pressure making your more likely to stop at the pharmacy and ask what you can buy to lower your blood pressure.
And then there's always the status about cleaning
"
-probably because you know it is there mess you are cleaning up in the first place
--I think we are all on the lookout for those fairies
And the little joys in life
"-
we are all wondering how many times with this one
And then just the funny/bizzare ones-and yes Ross these are all from you
--
Yes, this happens when I listen to songs all the time!! Just ask Eric
So see fun and easy! Grab the button, write your list and link up. It makes CA Girl and I so happy when you do!