How was your Mother's Day? I hope it was wonderful. I had a great weekend and decided a great way to recap it would be by liking up with
Oswald Cuties
Monday Mugs as the theme for today is Mother. --Today Monday Mugs is being hosted by
Kim From Pair Slices
-another blog I love.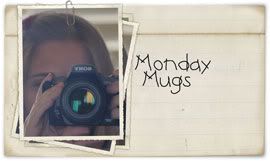 My Mother's Day celebration began last week when I enjoyed a Mommy and Child tea party with Alex at her preschool.
Followed up on Friday by an adorable program Lucas' class put on. They sang "You are My Sunshine" and Skidamarinki-dinki-dink (how in the world do you spell that??) and gave us their presents they had made, including their hand print on a tile.
CA Girl
. We hit four different stores and went out to dinner at Mimi's Cafe where we both ate way too much-- too much to even have room for desert! We had lots of good laughs, showed appreciation for our meal-french style, and there may have even been an accidental partial moon in the dressing room.
I ended up with two skirts, two shirts, work out pants and a shirt (needed it after our dinner!), and two pair of shoes! Oh and Ryder's birthday present, since we were right by Toys R Us-which is this Saturday!! How is he going to be 1 already??
And here is one of the outfits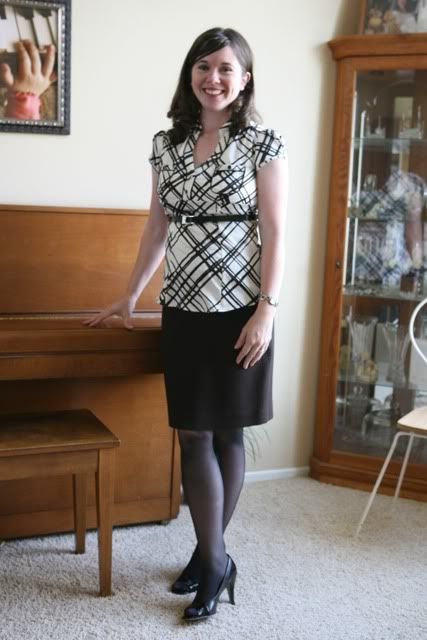 skirt-$1.68, shirt $14.40, shoes-ones I already owned.
And when I got back from shopping-Lucas and Alex were both in the shower, the house was all clean and there was a mother's day sign, flowers, and homemade cards from the kids waiting for me!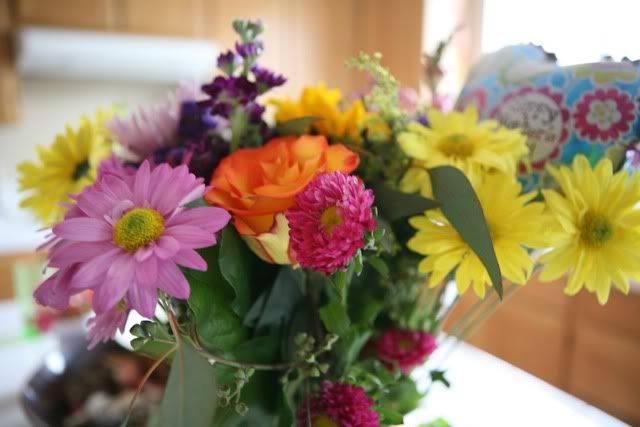 Then on Sunday Eric made breakfast-Egg and a Hats, lunch and dinner!
Lunch was chicken nuggets for the kids and a tray of sushi I had bought the day before for the grownups.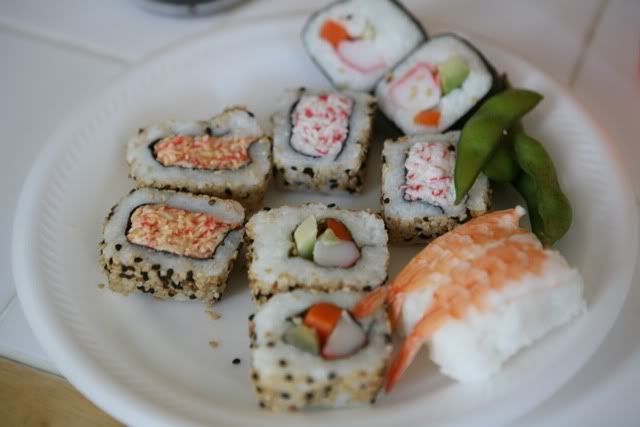 Dinner was pork chops, rice, garlic bread, pears and blueberry cake for desert.
It was a wonderful Mother's Day-weekend (the way I think it just might have to be from now on-hehe)
Hope you had a great weekend too!
***** And tomorrow is the second Tuesday of the Month--that means Time for the Status Quote!! So copy those funny/weird Facebook Status for an easy and fun post and come back and link up.