Hello! Are you on Facebook, or Twitter, and sometimes read status that just make you laugh or scratch your head? Then copy those status-no need to tell who it came from, and paste for an easy and fun blog post. Then grab the button and link up with either
CA Girl
or I-you can link up at either blog-it will show up in both lists.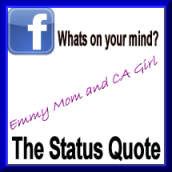 My commentary is in blue "--
we all want attention and love don't we? Some of us just aren't brave enough to ask for it.
"-
if I didn't know this guy and know he was totally joking I would think what a jerk!
"--
this one made me laugh
"--
yes as a Apple fan I loved it and one of the responses to this post was just as good
"
We wouldn't have to worry about health care, because no one would get viruses :)"
"-
this could be my status almost everyday
So fun, simple post. So grab the button, write your posts and link up.