A week and a half ago we moved. Last night we hung up pictures. Yes, we have become pro's at this whole moving thing. But moving on average every two and a half years will do that. Though the master bedroom may still have
most
a few of the boxes needing to be unpacked.
One of the perks that we do get with having to move so often is professional movers. For those of you who have never experienced professional movers- well let me just say it is nice, very nice...... though it is kind of weird having stangers go through all of your things.
So to better enlighten you what it is like here is my list of pro's and cons of professional movers
1- Pro: rows and rows of very neat boxes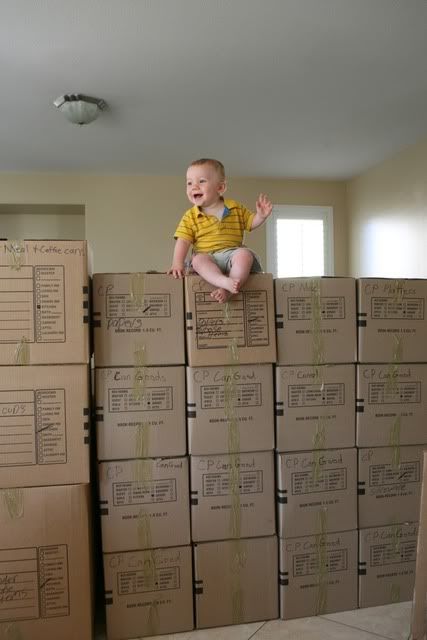 2. Con: Having complete strangers (usually questionable looking guys) handle your *ahem* delicates
3. Pro: Sitting there- literally - while they do all the work
4. Con: having things you don't need, garbage and other trash packed because you are just sitting there
5. Pro: Sitting there while they carry in box after box and really heavy furniture into your new place
6. Con: Discovering a book case that got smashed to pieces by some of the heavy furniture in the truck
7. Pro: Having the boxes delivered into the correct rooms
8. Con: Having the boxes in the wrong rooms as the box that was labeled "canned goods" had all of two cans in it and a lot of other stuff
9. Pro: Getting a good laugh at awesome spelling skills of the movers- my Easter wreath- "reef"
10. Con: Not being able to find things due to the awesome spelling- took me a while to realize "sho" was a box of my shoes
So there you have it- now you know what it is like to move with professional movers. I would call you and tell you all about it, but well we still haven't found where they packed our phone.
***Don't Forget tomorrow is Ten Things To Smile About!!!