Okay- I am almost ready to be back and blogging with a vengeance... or just regularly again as really I am not a vengeful kind of gal. I have many many things to share actually- things about the beach, things about movers who spell shoes "sho" and my Easter wreath-"reef" and other great stories. Plus Ten Thing to Smile about will be this Tuesday!!! So please please play along- a great way to look back on and recap the month. You can read more about it here if you need to.

But to finish off my round of great guest bloggers (thank you ladies!!) I am going to introduce you to Amy of Involuntary Smiles today. Amy's blog is my go to blog when I am needing inspiration and wanting to get back into a good place as a wife and mother. Amy truly is doing a wonderful job making her kids childhood magical- but she is totally real at the same time. So read her post here first and then definitely check out her blog!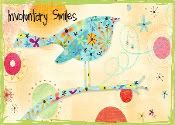 The day had been very long. Too long, if you asked me. As an act of mercy, my husband set up babysitting and took me out. Indian food.
Indian food will always bring a smile to my long face. No matter how long it is that day. There is just something about the smell and taste of curry that will put a smile on your lips. It could be the hot spicy goodness, or the unique combination of flavors that make my lips curl upwards. Regardless, it makes me happy.
As we were driving down the busy road, elbowing our way through the sea of cars, the title of a song popped into my head.
"Happiness is a Warm Gun."
Now, I love the Beatles, but I will admit that John Lennon was a strange fellow. A musical genius, yes, but a strange fellow. Disregarding the interesting lyrics, the title got me thinking.
Happiness is…
There are so many things that could end that sentence.
Money, prestige, fame, things, etc. The list is never ending and different for everyone.
I pondered what happiness is for me.
Happiness is a little body snuggled in so close, arms tightly wrapped around my neck, and the smell of fresh washed baby dominating my senses.
Happiness is sitting in a pew at church with two little monkeys crawling all over me, knowing that they are happy, and learning about God.
Happiness is a new skirt ruined by tiny sticky hands impatient to show me their morning masterpiece made out of breakfast cereal and red staining fruit.
Happiness is another muddy floor filled with a dancing husband and children.
Happiness is a strong crooked arm to snuggle close into at night.
Happiness is being able to make the necessary sacrifices to stay home and love and teach and squish those little monkeys to pieces.
Happiness is an exhausted body at the end of the day from trying to keep the house clean, the children alive, and my mind from exploding.
Happiness is creating a safe and secure childhood filled with magic for my children in this scary world.
To me, true happiness will always start at the home, and end at the home.
I am so glad that song title popped into my head, because I really needed the reminder at that moment.
And more than the curry ever could, my list if Happiness is what turned around my day.
***********

See--Amy is great! Head over to her blog and leave her some love!