It's Thursday! Time for Proud Mommy Moments. PMM is your chance to brag about your kids and tell the awesome amazing things they do or tell about the things that make you "proud"-i.e. you are hanging your head in embarrassment but hey- it makes for good blogging material.
Please, please grab the button for your post and link back to your post and not just your blog in general. Also definitely visit my
co-host Kmama
. And you don't have to be a mom to participate!
My last few PMM's have centered around Lucas- so it is definitely Alex's turn. On Tuesday she started preschool. Tuesday morning I went and woke her up, she kept rolling back over trying to go back to sleep. "You have preschool today." I told her. She immediately popped and while smiling said-"this is the best day ever!"
We got to her preschool and we were waiting for the time to go in. Some of the other kids began arriving. After just a minute Alex went up to one girl and asked: "What is your name? My name is Alex."
As soon as the girl told Alex her name, Alex came running over to me on her tiptoes, eyes beaming, mouth half covered like she had a secret. "Mom, mom! I made a new friend!" and she genuinely meant it.
When it was time to head inside she did not hesitate one second, hung her back pack up and hardly even glanced back to say goodbye.
Yes, Miss Alex- Alex the Bold. She is way more fearless then I was at that age.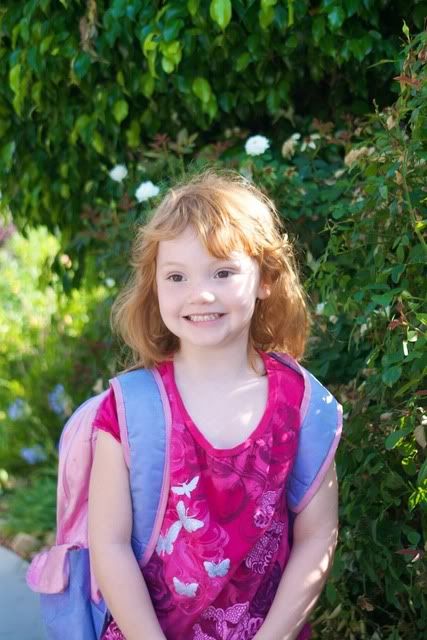 Alex on her first day of preschool this year
What is your PMM this week?