I have been so excited to post this all week- but I had a lot of other things already scheduled on my blog- so finally I get to show you the wonderful things that Vanessa from
A Randomlicious Blog for the Soul
gave me as part of Mamarrazi's Favorite Color Swap.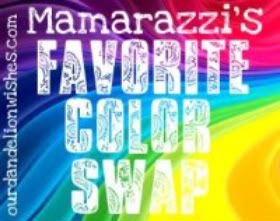 Vanessa is so sweet with two adorable children- one who is about to turn 1- such a fun age. So definitely swing by her blog. You can see what I got her on her post
here
.
So with no further adieu, here is what Vanessa gave me.
Was very excited to open the package to this beautifulness- not a real word I know
Can you guess what my favorite color is??
And what was inside- here it all is laid out in it's glory-
minus the adorable card she made for me! My battery died and I forgot to get a picture of it.
Starting from the upper left
-BYU shirt!! love love love
-Cute blue box- I almost got her the same thing in pink
-A hand/elbow- dry spots special lotion of sorts- that she made
-a fold-able blue storage box
-3 blue picture frames
-blue nail polish -Alex has been begging me to use this
-iPhone bumper-totally on my phone now
-hand/foot lotions
-4 blue bowls-we used these for popcorn today!
-notepad
-and some awesome soaps
I actually opened the BYU shirt last and totally squealed when I did
This is my favorite shade of blue- and while I have a a lot of BYU shirts- I do not have one like this--but it is totally one I would buy for myself. I was so excited I went into the butlers pantry and quickly changed into it- why I didn't go in the bathroom that was just around the corner I do not know
Look even Ryder made it into the picture--kind of

Such wonderful sweet gifts! Thanks ... for being my swap partner. I love all of it.