When Lucas was just a baby, I would get out the paper, fancy scissors and cute paper and would scrapbook for hours... and just get a few pages done. I got about the first 7 months of his life scrapbooked and then I stopped. Now- well all of my pictures are digital, yes, I do print some to display- but most are all on my computer. So when a representative from
myMemories.com
contacted me and asked if I would like to try out their
digital scrapbooking software
I was all for it!
I opened the
scrapbook software
and was in awe with all of the cute papers, templates and accessories. I think I could spend all day looking at them as there are tons! I decided to pick a template and just get started. It was all very user friendly and everything is customizable! You can even adjust the opacity of the different elements- something that just made this photographer's heart happy.
Adding pictures was easy, adding frames to pictures, more elements, changing the background- I was really pleased with how easy this
scrapbook software
was to use. I did try and upload a video and it was taking so long to process that I just aborted that-but will have to try that again another day.
And what did I make?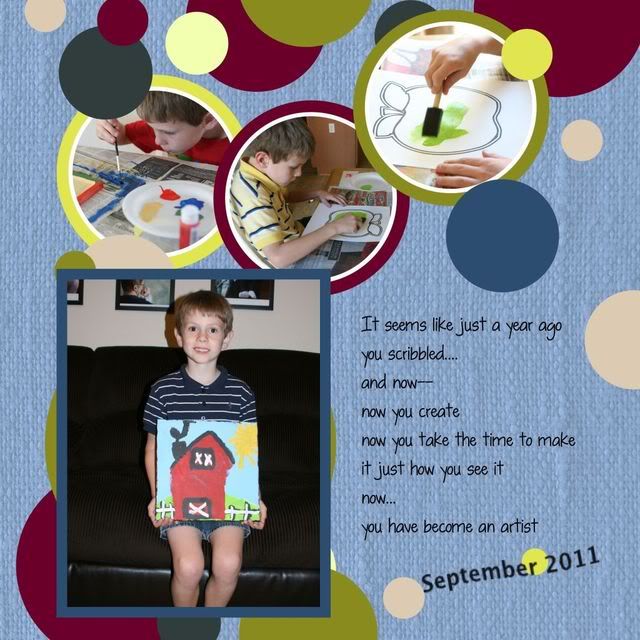 When I was making Ryder's puzzle, Lucas and Alex were painting along side me- I love the barn Lucas made totally on his own.
And I am also about to start another project a painting/picture display- so I decided to mess around with some different formats and create an example/template for the next project I will be doing
And the best part, I didn't have to screen capture these images to show you. Mymemories
digital scrapbooking software
lets you do what you want with your pages. You can print the pages right from your printer, you can save them as files, you can turn your pages into a movie, or make it an interactive album, even turn it into an i-Pod ready movie! I have seen other
scrapbook software
that makes you use their service to print it. I love the freedom of what you can do with your creations.
And the best part-one of you can have as much fun as I did!
Mymemories.com
has offered a free copy of the software to one of my readers!
So ready- here are the giveaway rules.
1. Required
- head over to
mymemories.com
and tell me which digital scrapbooking kit you would love to have first. Then leave a comment telling me what your pick was.
Bonus Entries: Leave a
SEPARATE
comment for each bonus entry as I will be using random.org for the winner.
--Follow me through GFC or tell me if you already are
--Follow me on Twitter
@Emmymom2
--leave your twitter name in comment
--RT about this contest "@Emmymom2 is hosting a great giveaway for scrapbooking software @MyMemoriesSuite "
--Follow
@Mymemoriessuite
on Twitter
--Follow
myMemroies FB page
So good luck!! You have until Thursday at 12:00 PM Pacific time to enter. Winner will be announced Friday. And if you aren't the lucky winner, I have a special coupon code for
mymemories.com
just for you!
The code is:
STMMMS19227
This code will provides a $10 discount off the purchase of the My Memories Suite Scrapbook software and a $10 coupon for the MyMemories.com store - $20 value!
Disclamier: I received a copy of MyMemories scrap-booking software to review. All feelings and opinions are my own.
P.S. Ten Things to Smile About This Month starts tomorrow!!!