It's that time again- time to copy those funny/weird/sad whatever you want Facebook or Twitter status and paste them for an easy post. Then link up with CA Girl or me- you only need to link up in one place, it will show up on both blogs and you are set to go.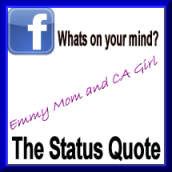 My commentary is in blue.
"-
kind of ironic huh?
"Is their a time zone I can cross into where it's the weekend again already?" -
or how about one where it is always the weekend?
" --
Thanks- I think I might have developed this paranoia now
" -
hey girls don't even like buying these things
And these made me well just kind of wonder, say ewe
"
what kind of man?
"So, as it turns out, it wasn't actually me that was throwing feces at people. I'm extremely happy to finally get that monkey off my back." -
the lesson at church on Sunday involved talk of the monkey on your back-glad I saw this after church otherwise I would have never been able to stop laughing
See, fun easy post. What status did you see? Play along and link up!