Okay so the title is a bit long but I wasn't quite sure what else to call it. But here it is.
I made this project back in November when my mom was here and we were going crafty crazy, can see all of the
projects we made here
, but have never told how we made it. This project is so easy! And it is also one of the few things we allow to hang on the wall over my daugther's bed (earthquakes here-don't want anything heavy falling on kids while they sleep)
Supplies:
Embroidery hoops- one for each letter in name
Fabric
Wooden Letters for name
Glue Gun
Scissors
Ribbon/string to hang it with (got mine from $ bins at Target)
Did you know fabric stores sell fabric quarters? I did not as I am not a quilter-but these were perfect for the project as then I could get four different colors without having to pay for a lot of fabric. (if you have scraps you like, use those!)
First place your fabric in the hoop, making sure it is in tightly and smoothly; secure the hoop closed.
Roughly (and I really did roughly) cut the fabric closer to circle of the hoop- but leave some extra to glue down to help secure (as you don't want to cut it exact to only have the fabric slip out)
On the wrong (or back side) hot glue around on the hoop and push the extra fabric down gluing into place (this is the side that will be against the wall so doesn't have to be pretty)
When dry, flip over and hot glue each letter onto each fabric- make sure the hook is at the top center. I found it easiest after I glued the letter in place, I carefully flipped the entire thing upside down, so the letter was on the counter and then pushed and held the fabric onto the letter while it dried (though careful it is hot!)
Tie the ribbon into a bow and wrap and tie around the embroidery hook and then hot glue onto the hook for extra security. Hot glue the ends of the ribbon to create a closed loop.
Then hang and enjoy! (I just used push pins to hang them from)
Since it's Tuesday linking up with two of my lovely ladies
Impulsive Addict
and
Seriously Shawn
for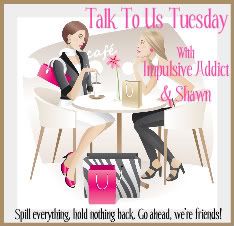 And since it's another project I am or will be linking up (some are Friday link-ups) here