It's Thursday which means it's time for Proud Mommy Moments! This is your weekly chance to brag about the awesome things your kids, nieces, nephews, etc did and no one will judge because we told you to you to. Or you can do the opposite and tell us about those moments your kids made you so "proud"- i.e. something totally embarrassing. Please grab the button for your post and visit my co-host
Kmama
.
It's no secret that this cute guy has me wrapped around his finger.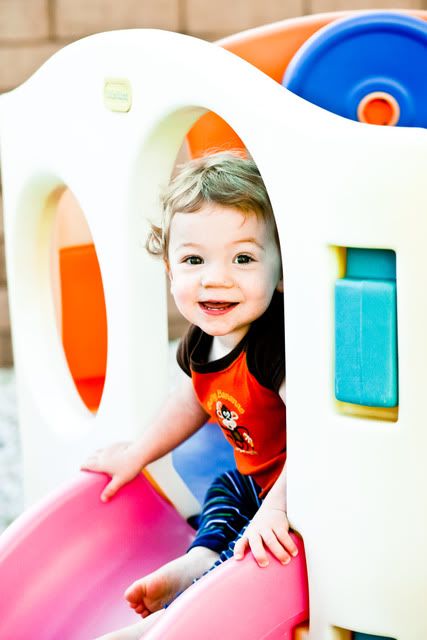 I think the baby of the family always has that power (am I not right all the babies out there?). He is constantly learning new things and everyday who he is really going to be is showing through more and more.
Last Saturday I spent the day shopping with CA Girl. To say thank you to Eric for manning the fort I bought a box of sour jelly beans at Tai Pan. Eric was sharing a few with the kids. Ryder of course was right in line to get his. Eric handed him a few and then said "okay all gone now." and set the box on the island out of Ryder's reach and eye site.
Ryder didn't make a peep but dashed off to the family room. He grabbed his sorting box toy ran with it into the kitchen, turned it upside down and placed it by the island. He then stood on top of it and was then able to see and reach the box of jelly beans.
The kid is a genius or at least very very clever. He was of course awarded for his cleverness with a few more jelly beans- hey he's the baby, he's spoiled. He might not speak much, but there is no doubt he is smart.
Though this last week he did also say his first sentence.
What was his first sentence?
"No, mine."
Oh my little guy I am so proud! I think.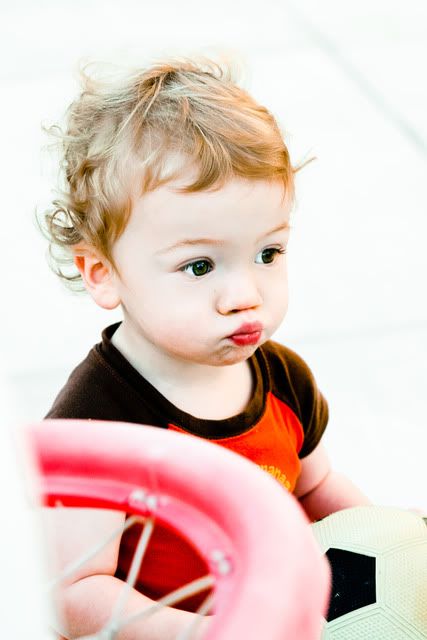 What is your Proud Mommy Moment this week?