When I was a kid I could always think of a million thing I wanted for my birthday. Now, I can often think of a million things anytime other than my birthday. Why is that? Why as soon as people are asking me what I want can I not think of anything?
As Eric's birthday approached I began asking him what he wanted. What was on his list? New iPad's- which were announced on his birthday actually and the new apple TV to name a few. And well, if you saw my twitter status you know he did get what he wanted for his birthday. He also ordered them and payed for them himself so I wanted to get him something else too.
We began the celebration on Monday by going out to dinner at Fudruckers. A week full of Cub Scouts, Soccer, and basketball made Monday the only available day.
Then on his birthday the kids and I made a cake. Alex helped frost and Lucas wrote the words and the confetti.
Then the presents.
What do you get a grown man who just bought himself everything from his own list essentially?
Candy
And a motion activated machine for dispensing said candy
Candy making kit from his big sis
And jerky-
hey why not?
And a blender.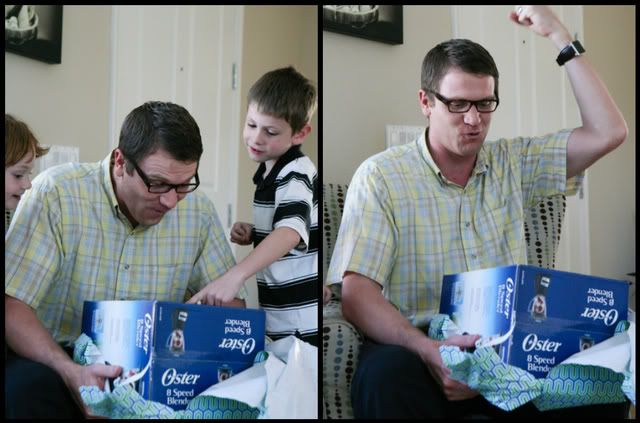 Yep- he is on a big smoothie kick and the POC blender we have had since we got married just wasn't cutting it anymore.
He was a happy man.
Do you have a hard time writing a birthday list?