So did you? Tell me the answer is yes- even if you didn't cause we all want our ego stroked from time to time. I spent the last week in Utah visiting family and having so much fun and barely checked things on-line. Eric said next year we are just going to sit around and give ourselves paper cuts and pour lemon juice on them so we won't be so sad to come home. When we got home and Eric asked Alex if she was happy we were home she gave a very resounding and definite "No!".
But the fun can't last forever. I am editing a ton of pictures and putting together some fun videos so I don't have those to share yet but I am going to share one thing I did my first night there--- I met some bloggers in real life!!
I got to go out to dinner with the lovely
Amy of Involuntary Smiles
and
Xazmin of This is the Year!
I have "known" both of these ladies most of my blogging time and finally got to meet them in real life.
I picked up Xazmin from a party that she was nice enough to leave early to come out with us. I was nervous as I made the walk up the sidewalk to get her- half because I was rehearsing how to say her name properly- but immediately felt comfortable and like I was meeting an old friend. She is very friendly and very out-going which made conversation come so easily.
We drove up to Salt Lake where we met Amy at the Old Spaghetti Factory.
Left to Right Amy, Me Xazmin
I have always thought Amy was pretty but in real life she is even more beautiful. We had fun eating appetizers, and desserts and talked until closing time-- which we decided was way too soon for us to end our adventures.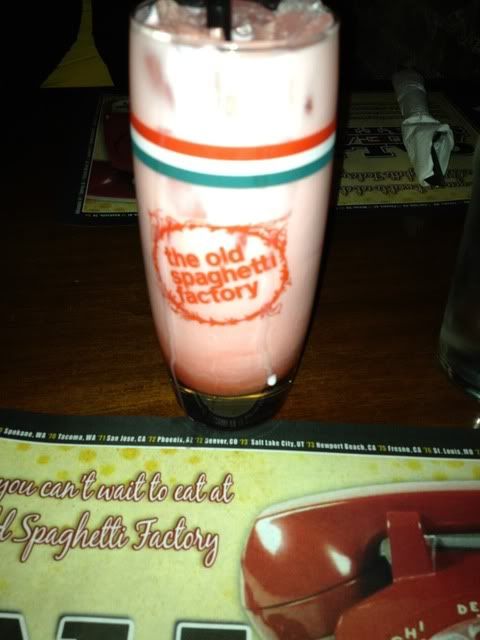 My Italian Soda! Yum
We tried to go to a karaoke place but it was filled with a large party of people who were all having too much fun together so we ended up at Denny's- yes another food place. Where we ate some more (I think the girls plan was to secretly make me fat) and talked and talked. Finally shortly after midnight we said we should go and headed out to the parking lot where we talked for another twenty minutes.
It was so fun meeting both of the these ladies and I definitely hope I can meet them in real life again.
Have you meet a blogger in real life?