It's Thursday! If you are new around here that means it is is Proud Mommy Moment (#PMM) time! This is your weekly chance to brag about the awesome things your kids, nieces, nephews, etc did and no one will judge because we told you to you to. Or you can do the opposite and tell us about those moments your kids made you so "proud"- i.e. something totally embarrassing but hey it makes for great blog material! Please grab the button for your post and visit my co-host
Kmama
.
Oh and before I forget-
Ten Things to Smile About This Month
will be on Tuesday!! So get your list ready!!
Two years ago I enrolled Lucas in swim lesson. It was a group class early in the morning. There were a lot of kids, it was cold, and he was miserable. Needless to say he did not learn much of anything.
Last summer we moved. This summer I was determined to help Lucas and Alex learn how to swim. When I saw a girl from my church was teaching private lessons I jumped right on the deal. Best decision ever- after just 8 classes both Lucas and Alex were swimming! I couldn't be more proud. In fact it made my
Proud Mommy Moment here.
After swim lessons ended we went to a pool day. Both Lucas and Alex asked that I bring their swim vests. Wait what?? I just spent this money on private swim lessons and you both want your swim vests? But, I decided not to fight it as I could see it would just result in them not wanting to go and I needed my visiting with other mom's time! I did encourage them not to wear them so they could keep practicing what they had learned.
For the next few weeks they both brought and swam with their swim vests.
Last week as we were about to head to pool day Lucas said "I am not going to wear my swim vest today."
"What?" I said surprised. "That is awesome!" I encouraged. He then asked me to bring it along, just in case. My excitement waned a bit.
When we made it to the pool he dropped his swim vest and was quickly off to the water. Before I knew it he was doing this!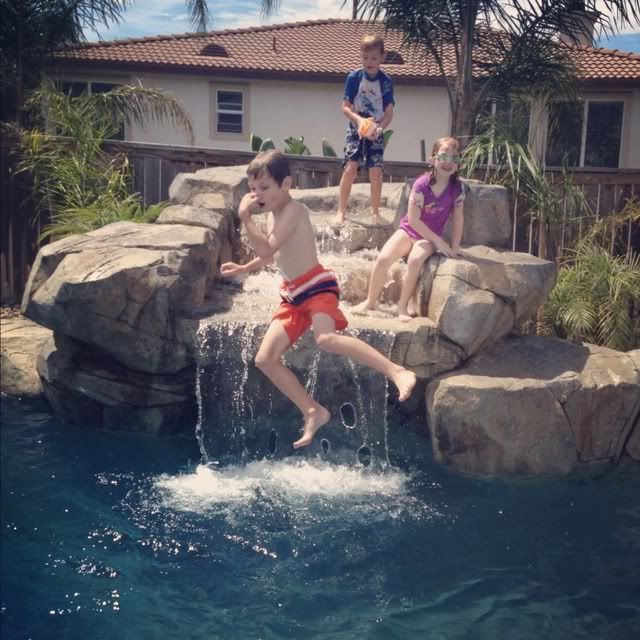 I was so happy! Happy that he finally knew how to swim, happy that he was no longer the only 7-year-old wearing a swim vest but mostly so happy and proud that he finally had enough confidence in himself to do it! And Alex, followed his lead and left her's off too.
And then... well then it got even better.
(For those who hate watching videos (and for my records when I print my blog- both Lucas and Alex jumped off the diving board into the deep end and then Lucas dove off the diving board! He has never dove before in his life)
Needless to say I was a very Proud Mama!
What is your Proud Mommy Moment this week?