The fun continues! If you missed part 1 you can
read it here
. I left off telling about how Rachel and I interrupted family night with tear inducing laughter and now for the next day...
Tuesday, July 10th
This was a special day as it was the last year that Rachel, my SIL, will be young as it was her 29th birthday! (In Eric's family we have a tradition of making a video for each person when they turn 30 talking about how old they are- they are really quite funny) We began the celebration with yummy all you can eat breakfast at Kneaders-- though the french toast were so thick and filling none of us went back for more.

Then it was off to the splash pad where the moms sat and relaxed while Eric led the kids around and through the water. Has to be some benefit to being a mom right?
The kids would gather together and Eric would jump up to dump the water on them
After the wet morning we spent the evening at the park to celebrate Rachel's birthday. Eric's other sister Raelynn planned lots of fun carnival games and a trivia game all in honor of Rachel.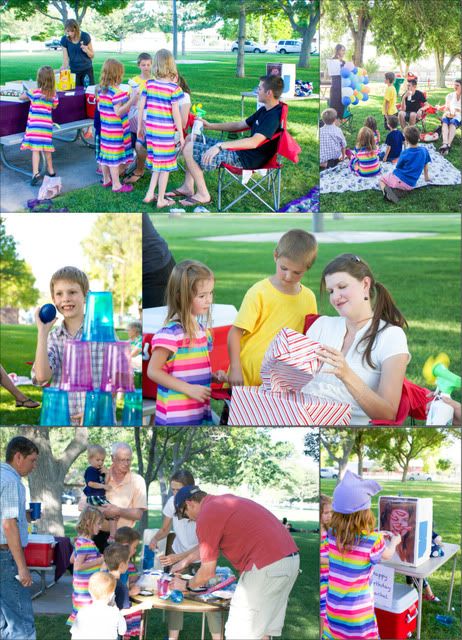 Instead of pin the tail on the donkey, we pinned the mouth on Rachel. The kids had fun playing the games and Eric had fun eating our dinner from Cafe Rio- one of his must go to places every time we go to Utah.
Oh and did I mention there was ice-cream.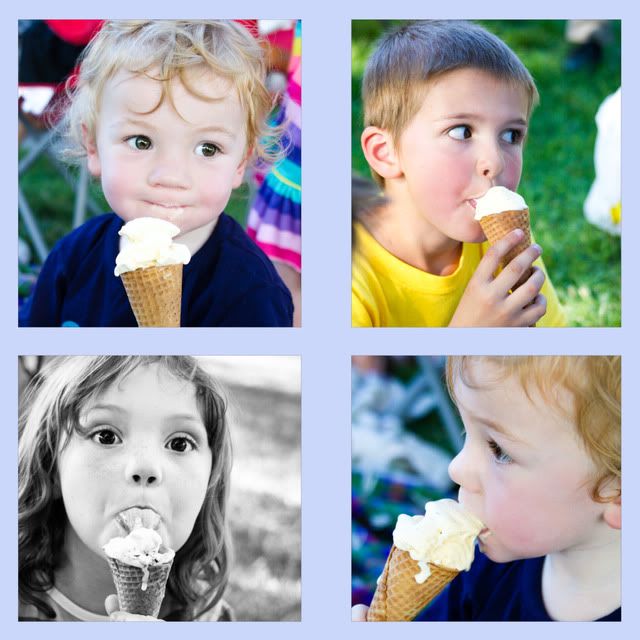 And yes the girls are all wearing their pajamas- they loved them so much and wanted to match so we let them. After all princess usually get their way.
Wednesday, July 11th
This day ended up being one of the favorites of the kids. We went to This is the Place State Park. A little history- when Brigham Young arrived in Utah after they had crossed the mountains he looked over Salt Lake Valley and said "this is the place". There is a statue there in honor of that moment and now there is a lot more. There is an entire historic village, complete with a bank, candy store, blacksmith, houses, a place to pan for gold, a little train to ride and tons more. We spent most of the day there and only saw about half of it.
Today the princess didn't have matching outfits-but they did have matching hair-do's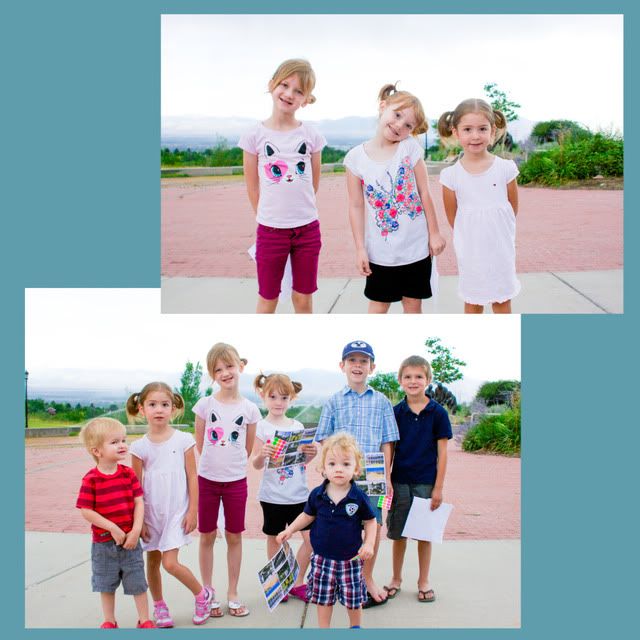 Playing and working like the pioneers
Enjoying the petting zoo- but don't swarm a turkey- it will peck
The kids even got to go on a pony ride!
But Alex's pony- just watch and see, he was a bit of a naughty pony
Lucas favorite part was the train ride
Oh and remember how I said one kid is probably pouting at all times yesterday- today it was Alex's turn. She decided to head to the gold panning instead of the train and we couldn't find her for a minute- needless to say I was a little upset with her when I found her; which then set her into a round of tears and she refused to ride on the train. You win some, you lose some.
Eric's favorite part- the donuts.
And that is a wrap for now. I will take a break from the recap for Proud Mommy Moments tomorrow. On Friday I will finish up and you won't want to miss as there is still dropping pants and a tumbling bounce house to tell you about.