Have you ever said or thought your life would be more exciting if it were a movie? Things always seem to work out just right in movies and everyone always looks good in it! Well my life is certainly not a movie-- but a movie trailer of my family's recent trip to Utah, oh I am so on that one.
Every year we meet up in Utah for a week of fun and craziness with Eric's parent and his two sisters and the 7 (soon to be 8) grandkids among us. The cousins are all close in age (Lucas the oldest at 7) so it really ends up being a lot of fun.
We spent a whole week in Utah, did a ton, and I am a photographer so there are a lot of picturess- 303 that made the final cut in fact.
But don't worry- I won't be showing you 303 pictures in one post... I will do it in several posts! Just kidding! Kind of- I made collages. And if you think oh, travel logs are so boring- well yes they sure can be and really I am doing these posts for myself- but I don't think you will want to miss out; as if you do you will miss boobs being grabbed, pants falling down, and a bounce house tumbling- just to mention a few.
Let the show begin!
The Utah Travels Part 1
Saturday, July 7th:
After several hours in the car we made it to Utah- we unpacked, gave hugs, I did a photo shoot (and yes Rachel I am still working on those pictures) and then I went out to dinner with some blogging friends! (Can
read about that here
)
Sunday, July 8th
Church in the morning
Then a visit to Temple Square in Salt Lake City. If you ever go to Salt Lake I highly recommend temple square, tons of beautiful art work, interactive exhibits and lots of information about who those crazy Mormons are.
Top Left then Clockwise: My MIL showing the paintings to the kids; Lucas and two of his cousins at the statue of Jesus Christ; Alex and her cousin; All walking to Temple Square; The Salt Lake Temple
My brother and his family who live in the area also joined us at temple square. The kids favorite part was definitely across the street in the Church History Museum. On the top floor they have a ton of fun interactive kid friendly exhibits.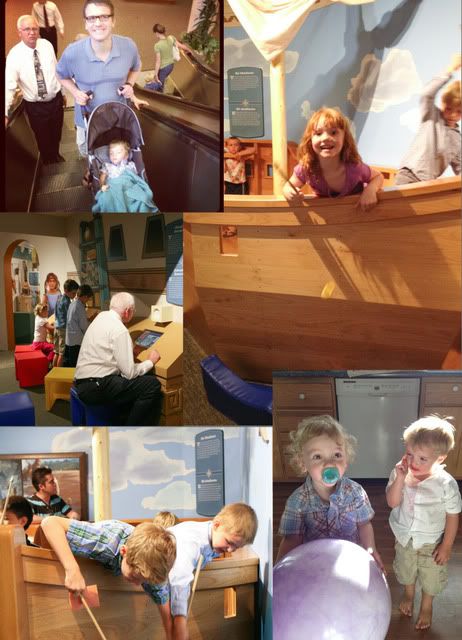 Top Left then Clockwise: Ryder catching some zzz's; Alex "fishing", Ryder and one of my brother's kids; Lucas and his cousin fishing; at the Church History Museum
After we finished playing at the museum just my family went to my brother's in-laws' house (follow that?) for dinner and games.
Monday, July 9th
If you ask a kid where they want to go where do they usually say? Other than Disneyland I mean. If you guessed Chuck-E-Cheese you are right. Now I know some people detest the place, personally I am all for it as long as it is just my family and not for a birthday party that is.
So as per the kids request, Monday morning we opened up Chuck-E-Cheese. They all played games to their little hearts requests and traded in their tickets for
rip-off
prizes; but hey they were happy.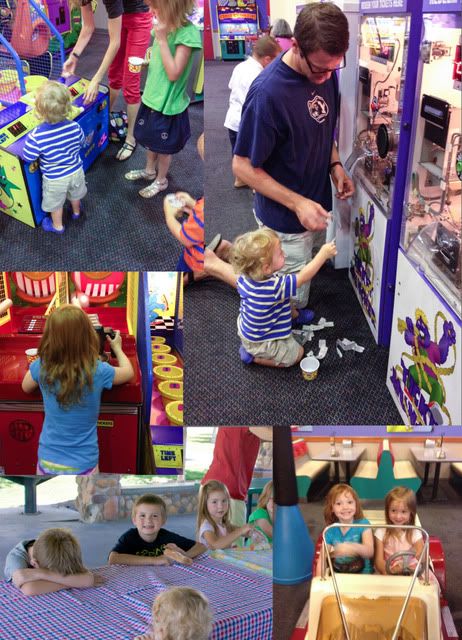 Wait what happened to Lucas? This was after Chuck-E-Cheese at a picnic lunch in the park. He was upset about who knows what at the time. When there are 7 kids it is almost a guarantee there will be at least one kid upset at all times right?
We ended the night with family night. Where my MIL taught the kids about some of their ancestors and then they each got to add their picture to a family tree she created. And each of the girls got a cute pioneer bonnet and the boys got missonary action figures!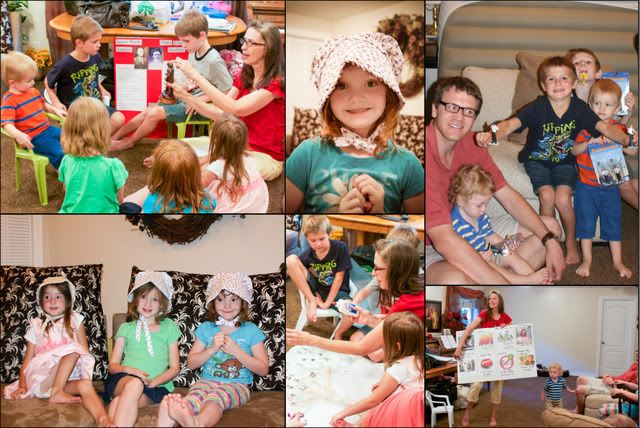 It really was a great lesson despite the fact that most of the adults were being very irreverent.
Why?
Well during the lesson one of the toddlers (won't tell which to protect the innocent) finally figured out that Rachel was pregnant (she is 29 weeks). We were telling him there was a baby in there, etc. He was all excited about this and kept talking about it. After thinking for a bit, he went over grabbed her chest and asked "is there another baby in there?"
My poor MIL tried to carry on with the lesson while Rachel and I had tears running down our face from laughing so hard.
And we ended the night- as per tradition- with matching pajamas for the kids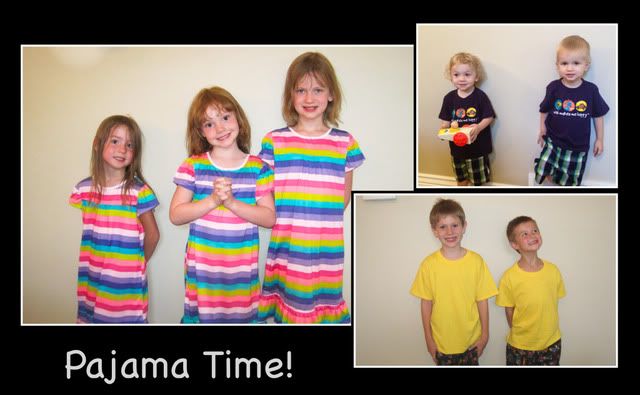 So that is our first three days. Tomorrow I will post about the next few days, but will not finish it out until Friday as there still will be Proud Mommy Moments on Thursday.
And if you are just dying and curious to know what happens next- well you can try and hold off by reading about your Utah Trip last year with
Part 1
,
Part 2
, and
Part 3
it involves crashes, bruises and donuts.